Meet the First Black Republican Woman Ever Elected to Congress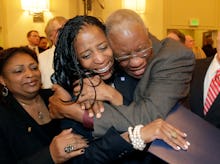 Republican Mia Love has been elected to the House of Representatives by the voters of Utah's 4th Congressional District. She will become the first black woman to represent the GOP in Congress, and her victory marked a major milestone for racial progress in a party that has all too often had trouble attracting minority candidates.
Love, the 39-year-old daughter of Haitian immigrants, was born in Brooklyn, N.Y., and raised in nearby Norwalk, Conn. After meeting her husband and moving out West, she ran for the same office in 2012, losing by just 768 votes. This year, Utah split the district, clearing the way for Love to cruise into the history books, defeating Democrat Doug Owens with 50% of the vote to his 46%. 
Love will join a disproportionately small group of women of color in Congress. There are none in the Senate. Pending the final tallies from election night, they will make up no more than 6% of the 535 House members. By contrast, women of color now make up approximately 20% of the population and, with 12.6 million eligible voters among them, one of the fastest-growing and most powerful groups in the American electorate. 
Love's story, though, is very much her own. Her parents fled Haiti in the 1970s when it was under the thumb of dictator François "Papa Doc" Duvalier. BuzzFeed reports that she "was raised a Catholic, but joined the Church of Jesus Christ of Latter-day Saints after graduating from college. About the same time, she considered a career on Broadway, but ended up with a job as a flight attendant at Continental Airlines."
That's how she met her husband, Jason Love. Eventually, she traded in the friendly skies for a life in politics. From 2010 to 2013, she was elected and served as mayor of Saratoga Springs, about a 40-minute drive south from Salt Lake City.
Love had been favored heavily in the polls leading up to Election Day but the race narrowed at the end. She trailed for most of the night, but won by more than 4,000 votes.
Her father was there to celebrate. Their family's story — Mia was born in the U.S., so automatically granted citizenship — reflects the ideal of how this country should treat its millions of immigrant families. 
But, as noted in a Newsweek story earlier this year, Love "has spoken publicly of a zero-tolerance policy against those illegally in the country being allowed to stay, no matter who they are, what they've done or how long they've been here." 
She insists her father, Jean Bourdeau, did it "the legal way." The Salt Lake Tribune, though, tells a slightly more nuanced tale. Bourdeau confirmed to reporters that he "was only able to legally reunite his family in the United States after he and his wife had their third child, Ludmya 'Mia' Bourdeau, who was born in December 1975, an American citizen by birthright."
"Her role as the family's 'ticket' to America under a lenient immigration law, which was later repealed, has stirred some controversy and raised questions that Love has refused to answer, considering them an unfair attack on her parents," according to the Salt Lake Tribune.
Love's arrival in Washington is something to celebrate. That she is a black Mormon woman born to immigrant parents does not confine her to a narrow sliver on the political spectrum. But she has benefited from the best America has to offer. Let's hope she sees fit to help extend that same opportunity to those following in her historic footsteps.