60 Years of Tradition Goes Out the Window in Pennsylvania Governor's Race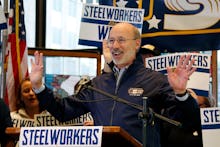 For the first time since 1954, Pennsylvania has voted out the incumbent party's governor after just a single term. Republicans and Democrats had exchanged 8-year reigns for the past six decades.
Republican Tom Corbett, who took office in 2009, was the history-making loser, falling to Democratic challenger Tom Wolf.
The six-decade streak, unequaled in American political history, began when Democrat George Leader was elected to great fanfare after 16 years of Republican rule.
"That anchor and pride of Republicanism, the great and prosperous state of Pennsylvania, went Democratic," bellowed Time magazine, which put Leader on its cover to underline the gravity of his win. This was the early days of the national Civil Rights movement and Democrats — who were mostly still defined by their segregationist faction down South — were not usually welcome in the liberal (relatively speaking) Northeast. 
Wolf's victory will not get him on any magazine covers outside of Pennsylvania. He probably won't appear on too many in Pennsylvania, either, but he is unique in one way: He is one of the few Democrats who appeared with President Obama on the campaign trail this midterm cycle. He also benefited from spending a whole lot of money, playing his part in making this race the most expensive in Keystone State history.
And the excitement doesn't end there. As KDKA Pittsburgh news anchor Ken Rice points out, Wolf's win makes for a nice entrée into this Movember 2014.
The clean-shaven Corbett, meanwhile, "was ineffective, having failed to push through his political agenda, given both legislative houses are Republican-controlled," according to a Reuters analysis. "The bad rap on getting things done comes at a time when voters are looking to their state governments to tackle pressing issues, given the political deadlock that shows no sign of easing in Washington, D.C."
The GOP is likely to win back control of the Senate tonight, but its death grip on statehouses around the country is slipping. If the trend holds, Corbett's defeat could go from historical novelty to harbinger of troubled times for Republican governors.