Recreational Marijuana Just Became Legal in the Nation's Capital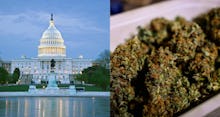 Marijuana enthusiasts of America, rejoice: Residents of the nation's capital are voting yes on smoking pot for fun. 
NPR reports that as of 9:09 pm Eastern time, supporters of the Washington, D.C., ballot initiative to legalize recreational marijuana have a 65-29.5 percent lead, and the measure is set to pass.
The measure will make it legal for people 21 and older to possess up to two ounces of marijuana and grow up to six plants. 
In addition to D.C., three states had ballot initiatives on legalizing marijuana Tuesday — Alaska and Oregon for recreational purposes, and Florida for medical use. Florida voters rejected the amendment, which needed 60% approval to pass. 
Two things make the passage of this initiative different from the recreational marijuana measures that passed in Washington and Colorado in 2012 and sat on the ballot Alaska and Oregon today.
First, the measure legalizes possession but stops short of institutionalizing the sale, taxation and regulation of the plant. The D.C. City Council is contemplating a bill that would tax and regulate it, but its exact form and timeline have yet to be determined. 
Second, it remains to be seen how the incongruence between local and federal law will play out in the District. Congress could potentially intervene and block the measure, but the Washington Post reports that earlier attempts by congressional Republicans to interfere with D.C.'s passage of marijuana decriminalization law failed, and advocates and council members are operating with the expectation that it will not be challenged.
There are too many variables to know how easy it will be to smoke a joint in the White House in the coming year, but the passage of the measure alone is a notable step forward for the national legalization movement.