Tom Cotton Just Became the Youngest Senator in America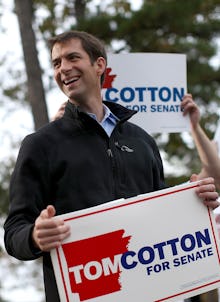 Republican Rep. Tom Cotton just became Arkansas's newest senator. 
Cotton's win over sitting Democratic Sen. Mark Pryor marks the GOP's second pickup in the Senate, following the victory of Republican Shelley Moore Capito in West Virginia. Republicans need to pick up six seats to regain control of the Senate.
Cotton was projected to defeat Pryor by a relatively healthy margin as results came in Tuesday night. Arkansas is one of the states seen as key to Republicans winning a majority in the Senate.
Pryor has been in the Senate since 2003, but his close association with President Barack Obama was a drag on his campaign in this year's election. Despite the Clintons' efforts to help Pryor's campaign, Cotton's win isn't a big surprise.
Cotton, at age 37, will become the youngest member of the Senate. The Iraq War veteran previously served one term in the House.
Cotton had a comfortable lead heading into Election Day. The last projections before the polls closed showed him with a near-certain chance of defeating Pryor: