3 Charts Show How America Voted in This Year's Midterm Elections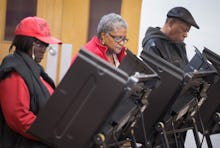 Demographic breakdowns of votes this midterm elections didn't stray far from trends established by previous elections.
Exit poll data revealed that voting tendencies remained relatively consistent across age groups, race groups, and men and women in comparison to the 2012 exit poll results. The following charts track data from election polls from 2008 up through Tuesday's election, highlighting the changes and consistencies in votes for both parties throughout the years. The data is based on exit polls conducted by Edison Research and compiled by the New York Times.
Age
Younger generations maintained their alliance to Democrats, whereas older age groups continued to lean toward the right. Democrats did lose a small edge with millennial voters, as some polls predicted. However, it's also important to note that early election polls don't always fully account for votes cast later in the day, of which millennials make up a large percentage.
Gender
The gender norms for both parties held true, with Republicans capturing more votes from men and Democrats capturing more votes from women in this year's midterms. Neither conservatives' nor liberals' numbers budged much on their numbers of men and women voters, which will likely disappoint Republicans who have been working hard to curry favor with women voters.
Race
Perhaps the most interesting demographic findings came from the exit polls on race. Republicans still lagged behind Democrats on votes from Hispanics and blacks, proving that the party still has work to do to gain the support of minorities in 2016. Democrats' support from Hispanic voters did decline slightly, which may be a consequence of Obama's decision to delay decisions on immigration until after midterm elections were over. 
Black voters overwhelmingly voted for Democrats, leaving the population far out of Republican's reach. However, Republicans did still maintain their lead with support from white voters. Asians voted for parties in relatively even numbers, with Democrats pulling just a slim majority in votes.
Exit polls can offer key insights into each party's key voter bases and the support both parties have coming out of 2014 and heading into the 2016 presidential elections. However, a Pew study released Tuesday noted that early exit polls don't always tell the full story on demographic breakdowns. The numbers will become clearer over the next few days and we'll soon have an even better idea of just how 2016 will shape up, but this snapshot shows what we know about the electorate on election night.