Tennessee Voters Just Struck a Huge Blow to Women's Right to Choose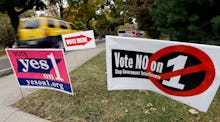 Tennessee's proposed anti-abortion amendment passed with the support of 52.6% of the vote on Tuesday night.
The amendment to the state constitution, known as Amendment 1, will increase lawmakers' ability to restrict and regulate abortion in the future by making obstacles to legal abortions easier to approve. Its passage strikes a serious blow to the 2000 Tennessee Supreme Court ruling that placed the decision of whether to end a pregnancy under the protection of women's privacy rights.
The ballot measure, which is predicted to be the most expensive in Tennessee history, was expected to be a challenge to pass. The state has tough rules for passing constitutional amendments, requiring not only the majority of the vote, but also more than half of the number of votes cast in the governor's race.
But amendment proponents' concerns that Tennessee is the "abortion capital of the Bible Belt" trumped any difficulty that rule might have posed. Other states in the region require that women go through counseling and wait 24 hours before getting an abortion, but Tennessee lacks such stringent rules. Supporters of the amendment contended that this discrepancy in laws was driving the 23% of abortions that were done in the state for non-Tennessee residents in the last year.
Opponents pointed out that this statistic could also be attributed to Nashville's positioning as a central hub in the region. Residents from the surrounding eight states frequently travel to the state's capital. 
Those against the amendment also pointed out that the Supreme Court ruling hadn't exactly stopped the state from putting abortion rulings into place in years past. Now, laws such as the one "mandating that physicians who perform abortions have admitting privileges at a local hospital" passed in 2012, will be all the easier to pass.
With the passage of this amendment, Tennessee becomes the fourth state to amend its constitution on the issue of abortion. Colorado and North Dakota also had anti-abortion measures on their ballots this midterm, but neither passed.