23 Stores That Aren't Ruining Thanksgiving for Their Employees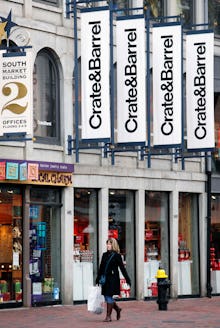 The news: While thrifty shoppers are counting down to Black Friday to score some deals, people who work in retail are counting down to a particular kind of hell: Not only do they have to deal with belligerent crowds and dangerous stampedes, they're also being forced to work ridiculous shifts that increasingly cut into Thanksgiving and even earlier.
For instance, Kmart is asking people to come to work by dawn on Thanksgiving, and allegedly denying requests from employees to take the day off. As for Walmart, nearly 1 million workers across the country will have to spend the holiday away from their families and fight off the bargain-hungry hordes instead.
But as those retailers are opening earlier and earlier every year for Black Friday in a bid to one-up each other and maximize shopping time, others are refusing to give into consumer pressure. Forbes compiled this handy list of nearly two dozen retailers choosing to do right by their employees and stay closed for Thanksgiving:
American Girl
Barnes & Noble
Bed, Bath and Beyond
BJ's Wholesale Club
Burlington Coat Factory
Costco
Crate & Barrel
Dillard's
DSW
GameStop
HomeGoods
Home Depot
Jo-Ann Fabrics
Lowe's
Marshalls
Nordstrom
Petco
Pier 1 Imports
Publix
RadioShack
Sam's Club
Sur La Table
T.J. Maxx
"We consider ourselves an Associate-friendly Company, and we are pleased to give our Associates the time to enjoy the Thanksgiving holiday with family and friends," a T.J. Maxx representative said in a statement to ThinkProgress.
If you want your Thanksgiving to be about family, it might be a good idea to follow these retailers' leads and stay home with your loved ones, instead of trying to brave the mad, and sometimes deadly, Black Friday crowds.