The Roots Are Taking Our Failing Music Education System Into Their Own Hands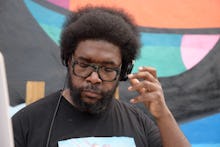 Long before they owned late night TV as a house band for Fallon's Tonight Show, Ahmir "Questlove" Thompson and Tariq "Black Thought" Trotter were cutting their teeth at Philadelphia High School for Creative and Performing Arts. Recently, though, the school that taught the Roots to play hip-hop fell victim to budget cuts by a government that doesn't realize the value of music. But the Roots aren't going to let that happen. 
The school is set to take a $1.1 million hit. It will have to cut 19 staff members, after-school clubs, extracurricular activities and its annual theater production. This kind of arts budget gutting is happening across the country. And to save their alma mater from that fate, the Roots have created a foundation to keep the dream of their youth alive.
"I'm taking this as a state of emergency," said The Roots drummer and bandleader Questlove. He originally planned to donate the $1 million himself to make up the difference. But his managers convinced him to use some of the corporate sponsors the band has teamed up with over the years to create a long-term plan to sustain the school. That plan is the Creative and Performing Arts foundation. It aims to raise $500,000 annually for its first five years, upping to a full $1 million for every year after that.
"It cultivated us. It educated us," Questlove said of his high school arts experience. "This is more than just pay it forward or celeb guilt. This is necessary. ... It keeps you out of trouble. It helps develop your personality. If you take that away, you're just a machine."
Questlove is right on all points. Musical education is an incredible way to develop young minds. Studies have shown that students who study music demonstrate increased functioning across many activities. On average, children who receive musical education in school boast higher grades, higher test scores, better attendance records and higher rates of community engagement than students who don't. Studying music while young can strengthen linguistic and mathematical brain functions. It can increase brain plasticity and help men and women resist the effects of aging and cognitive decline. In short: playing music in your classroom matters more than you know.
It isn't the sort of thing to take away from a kid unwittingly, and it's up to artists like The Roots to see that American kids get the music education they need.