Meet the Youngest Woman to Ever Be Elected to Congress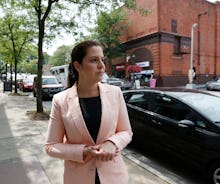 Elise Stefanik made history Tuesday night when she became the youngest woman ever elected to Congress.
The 30-year-old will represent New York's 21st District in the House of Representatives after beating Democratic incumbent Bill Owens by 22 points to become the first Republican to win the district since 1993. Owens had held the office since 1990. 
Stefanik is a rising star in the Republican Party and a favorite among the party's leadership. Speaker of the House John Boehner and House Majority Leader Kevin McCarthy both joined her on the campaign trails, and outside groups like Super PAC American Crossroads backed Stefanik with ads during the race.
Although Stefanik will be new to Congress, she's not new to Washington. She worked on the Domestic Policy Council for President George W. Bush, and was a policy director for the Republican National Committee in 2012. The Harvard graduate served as director of debate preparation for Paul Ryan during his 2012 vice presidential campaign.
The youngest woman elected to Congress prior to Stefanik was 31-year-old Elizabeth Holtzman, who was elected to the House in 1973. Forty years later, Holtzman's record has finally been broken.
Stefanik recently told Business Insider that she never thought she'd be running for Congress, but was disappointed with what she saw in the 2012 elections. She thought what the district needed was a fresh candidate who was "able to talk about a positive vision to getting our economy moving again."
Before Stefanik has even stepped onto the floor, she's made history. We'll see if the youngest woman sticks to her election promise and continues to make history during her term too.