These Women Are Showing Victoria's Secret What a "Perfect Body" Really Looks Like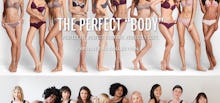 Victoria's Secret, you'll be utterly unsurprised to know, isn't a champion for positive body image. But occasionally its gaffes allow real body champions to emerge.
The lingerie brand found itself in even deeper trouble than usual last week due to one questionable phrase: "The Perfect 'Body.'" The statement was emblazoned over several different images, all including the smooth, slender bodies Victoria's Secret is known for. Clearly, whoever came up with the marketing slogan wasn't thinking things through.
The Internet swiftly responded with a Change.org petition, the body-positive hashtag #iamperfect and now, quite brilliantly, a counter lingerie ad:
Brought to us by underwear brand Dear Kate, the alternative photos sum up every woman's indignation over the original Victoria's Secret photo: The idea of one "perfect" body is a fallacy. 
"As if women need a reminder of our society's homogenous definition of beauty, the [Victoria's Secret] ad features ten models with almost identical body shapes," the text alongside Dear Kate's photo reads. "We show the multitude of shapes perfect bodies can take." 
What's more, the women in the ad aren't professional models but rather "real" women, including a doctor, a performance artist, a CEO and a fashion-brand founder. The resulting photo might be starkly different than your typical lingerie ad, but otherwise it's completely familiar: These are the kinds of bodies so many women see when they look around the real world and even in the mirror.
"There are already photos of me in my swimsuit on my Facebook," one of the models, digital consultant Kate Gardiner, told Mic. The Dear Kate photo just shined a light on that everyday reality.
Corporate campaigns like these also aren't totally new. Dove has earned industrywide kudos for showcasing diverse body shapes in its Campaign for Real Beauty ads since 2004, and earlier this year American Eagle's Aerie presented underwear models sans Photoshop in order to show women who "look a little more like the rest of us" so that "real girls everywhere will start to embrace their own beauty." (The move apparently paid off: American Eagle reported a jump in the line's second-quarter sales this week.) 
Dear Kate's strategy takes it one step further by casting nonprofessional models with "nonprofessional bodies." As much as the company has been praised for its "Perfect Body" photo so far, it actually made waves with this strategy in August, when it featured female tech entrepreneurs and executives in their underwear. Critics pointed out that women in Silicon Valley already struggle against to be taken seriously and respected for their work in the face of pervasive sexism. 
As one CEO put it to Time, "Presenting yourself undressed has inherently sexual overtones, and undermines being seen as a serious technologist."
But as Dear Kate founder Julie Sygiel explained to the Huffington Post, "If someone views our campaign as perpetuating sexism, it's because they have certain expectations of women. ... The way we see the world is that women can be just as powerful in underwear as they are in a power suit."
Plus, it's an underwear company. The other objective was to present a diverse array of women's bodies as sexy. As participating model Adda Birnir told HuffPost, the campaign reflected Dear Kate's "commitment to showing real women in all their complexity."
The new "Perfect Body" photo strives to do the same. And judging by the heartening comments by women underneath the photo on DearKate.com, it's working.
h/t Cosmopolitan