If You Love Sushi, You'd Better Enjoy It While You Can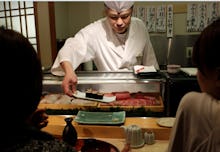 The news: When President Barack Obama traveled to Tokyo last April, he enjoyed a meal with Japan's Prime Minister Shinzo Abe at Sukiyabashi Jiro, the Michelin-starred restaurant of 89-year-old sushi master Jiro Ono, who rose to non-foodie prominence after being featured in the popular 2011 documentary Jiro Dreams of Sushi.
"[Obama] said three times, 'This is the best sushi I've ever had in my life'," Ono's son recalled.
Unfortunately, the global population of the key ingredient for "best sushi ever" is rapidly dwindling. According to Ono himself, our growing global appetite for spicy tuna rolls, salmon sashimi and yellowfin sushi has pushed industrial fishing fleets to flood the market with almost no regard for regulations. 
"I can't imagine at all that sushi in the future will be made of the same materials we use today," Ono told the Foreign Correspondents Club of Japan, reports the New York Daily News. "I told my young men three years ago sushi materials will totally change in five years. And now, such a trend is becoming a reality little by little."
What's causing the problem? A short supply in Japan of high-quality domestic bluefin tuna, or kuromaguro, is driving dealers and fishing companies to the Atlantic Ocean from as far away as Japan, Mexico and South Korea.
Bluefin tuna, considered a delicacy in Japan and listed as endangered, has suffered a population decline of more than 96% in recent years, according to the National Oceanic and Atmospheric Administration. In addition, an estimated 90% of bluefin are caught before they can reproduce, crippling the species' abilities to repopulate.
The world's sushi appetite is driving demand, but it's the high price of bluefin that inspires fleets to decimate stocks in the Pacific Ocean. Last year, one 490-lb. bluefin tuna sold for $1.35 million, setting a new record in Tokyo's famous Tsukiji fish market.
So what's next? Mostly likely, depleted fish stocks will likely continue to raise prices, a cost that will trickle down from the president's $265 plate of sushi to the sushi rolls most Americans enjoy at restaurants and grocery stores. In the meantime, farmed fish have increasingly become a go-to option, though for sushi-quality fish, most chefs demand the highest quality, wildly grown product, which can be hard to replicate under farm conditions. 
As a potential fix, Japan's Fisheries Agency may ask importers to refrain from buying Pacific bluefin tuna from Mexico, a nudge for other countries to take similar steps, the Japan Times reported. In 2013, the Inter-American Tropical Tuna Commission developed conservation measures for bluefin tuna, including international catch limits, but policing vast ocean waters has proved to be a challenge.
Hopefully these measures will take hold and work, otherwise your next visit to the sushi bar may end up costing more than an arm and a leg — maybe something closer to a fin and a tail.