Republicans Are Celebrating — But the Wins Create Major Hurdles in 2016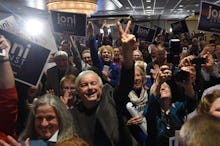 When the Democrats lost their House majority in 2010, President Obama called it a "shellacking." After this latest Republican midterm rout, which won the GOP control of the Senate, the president was less colorful in his assessment.
"There is no doubt," he told reporters, "Republicans had a good night."
But two good nights spread out over four years isn't what the Republican Party is really after. They want to take back the White House, and they're banking on their 2014 sweep to carry over into the 2016 presidential race. 
On its face, the logic is sound. But the party, in winning, might have created a whole new set of hurdles for potential Republican presidential candidates, both those in the Senate and governors across the country.
The danger begins with reading too much into the midterm results, which were as much a national rejection of the White House as a function of circumstance, the unique confluence of an unfriendly election map, retiring Democrats and understandably agitated voters, which did as much to do drive the GOP "bloodbath" as any shift in how voters see the parties and issues. 
In the coming days and weeks, high-profile 2016 contenders will have election night on their minds as they begin to meet for clandestine powwows with the advisers they hope can plot out a path to the White House. National Journal reports that Sen. Rand Paul (R-Ky.) has his meeting scheduled for Nov. 12. Republicans have already sent out save-the-dates for Sept. 16, 2015, when they will hold their first primary debate at the Reagan Library in California. 
But voters, as we witnessed Tuesday night, have little sympathy for majority parties who can't turn ideas into action. This is where Republicans' midterm triumph could ultimately create a raft of problems for the eventual nominee.
The coming Senate showdown: For likely candidates who will be serving in the new Republican majority, such as Ted Cruz, Rand Paul and Marco Rubio, new power means greater responsibility. And it means voting. While Hillary Clinton is giving speeches to friendly audiences and, at worst, fielding a sportsmanslike challenge for the Democratic nomination, Senate Republicans will be caught in the nitty-gritty of running Congress. Whatever direction they go, Clinton will be staked on high ground, taking potshots at the Washington muck. 
Sen. Ted Cruz, the first-term Texas Republican, has already laid out his legislative agenda for the next two years. One assumes he did not consult with his colleague, soon-to-be Senate Majority Leader Mitch McConnell, before sharing it with the Washington Post. What he has in store could prove problematic for his colleagues and eventual presidential rivals.
His plans center on a calculated assault on the integrity of White House officials and the fabric of Obamacare. Cruz's best-case scenario is that he can get House and Senate Republicans on the same page, pass a few bills to chip away at the health care law, then sit back and crow as President Obama duly vetoes them.
But Cruz's machinations could quickly spiral into a confrontation with the new majority leader. McConnell insisted in a post-election press conference Wednesday that there would be no full repeal of Obamacare, nor a government shutdown over the debt — two of Cruz's pet issues. A confrontation between these two factions of the party could force other Republican candidates in the Senate to choose between Cruz's brand of fiery conservatism and McConnell's backroom-dealing old-school Republicanism. If they choose the former, they risk being pulled so far to the right during the primaries that they become unacceptable to a general electorate.
Problems for the governors: Outside Capitol Hill, congressional Republicans' fixation on Obamacare — all of the newly-elected GOP senators campaigned on its repeal — will create a unique set of challenges. Governors are executives. Like the president, they are held accountable for everything that happens under their watch, no matter how caustic the internal government chemistry.
So when you see a Republican governor like Ohio's John Kasich first expanding Medicaid, a key provision offered to the states as part of Obamacare, then speaking semi-kindly about the law, it's not because he has embraced some kind of moral imperative to expand access to affordable health insurance to millions of Americans. He is simply responding to the fact that the law, for all its kinks, is mostly working.
Medicaid expansion is popular with voters. State budgets, which had been cast into shambles after the 2007 economic crisis, need the federal money raised and offered by Obamacare. This is a reality. When Kasich takes a primary debate stage with Cruz, as they inevitably will, Kasich will face an unappealing choice: Go weak-kneed for the tea party folks or stand up for what's working and get booed by the partisan crowd as Cruz sets about picking his turncoat bones.
What does it all mean? This is just one very specific scenario, but the guiding arc will play out over and over unless someone in the Republican caucus takes the bold step of aligning the party platform with broader shifts in the electorate. Based on what we have seen to date, Ted Cruz is more likely to give Mitch McConnell a piggyback ride to his new office than be that person.
This puts immense pressure on McConnell and House Majority Leader John Boehner, who knows a thing or two about keeping a raucous caucus in his corner, to assert themselves. If they can work together to protect senators like Cruz, Rubio and Paul from themselves — finding a way to keep their messages loud while also getting meaningful and workable legislation to the White House — then Republicans have a chance to realize Tuesday night's promise. If not, 2014's champagne showers will turn to tears faster than you can say "Clinton wins!"