12 Photos Show the Real-World Spots Your Favorite Sci-Fi Films Were Shot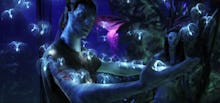 The worlds of science fiction tend to feel a galaxy away. Whether they're vast deserts of towering rock structures or ornate spaces filled with clues to finish a quest, location plays a huge part in the telling of the story. Settings can help set the mood or foreshadow something to come.
Sci-fi movies play with our imaginations, but sometimes that planet from a different solar system turns out to be a lot closer than expected. Check out these out-of-this-world locales that you can totally find on Google Maps. 
1. Serenity — Anza-Borrego Desert State Park in California
The cult classic, based on Joss Whedon's short-lived television series Firefly, features a variety of terrains. Anza-Borrego Desert State Park was the backdrop to one of the movie's last scenes, a funeral for some of the crew's fallen heroes. It stretches over 600,000 acres, making it the largest state park in California and the second biggest in the continental United States.
2. Avatar — Keahua Arboretum and Wailua River in Hawaii
With its lush greenery and exotic flowers, Hawaii truly feels otherworldly. And while the bulk of Avatar was created using CGI imagery, the film depended on the beauty of Keahua Arboretum to help bring to life the world of Pandora. For those who like hiking, there are also trails throughout the park. 
3. Planet of the Apes — Westward Beach in Malibu, California
Spoiler alert for the 1968 classic: Turns out the Planet of the Apes is actually just plain old Earth. Westward Beach is where the protagonist Taylor realizes he's been on his home world all along. The scene was shot at a cove on the beach.
4. Terminator — Griffith Observatory in Los Angeles 
If you were too busy staring at Arnold Schwarzenegger's chiseled booty during the opening of Terminator, you may have missed the amazing view of Los Angeles lights at nighttime. The location of such a wonder? Griffith Observatory. With its rich history and its prime perch on top of Mount Hollywood, it's a must-visit location if you ever find yourself in Southern California.
5. Star Trek — Vasquez Rocks in California 
These rock formations are a flagship locale in the Star Trek canon. The site has been used in at least eight episodes and two films. Named after the infamous bandit Tiburcio Vásquez, the park has featured in a bundle of other television shows, including Bonzana and Buffy the Vampire Slayer. Footage from Vasquez Rocks was used for Spock's home planet Vulcan in the J.J. Abrams reboot of Star Trek.
6. Blade Runner — Bradbury Building in Los Angeles
Built in 1893, the Bradbury Building is the setting for the iconic rooftop scene in Blade Runner. While used mainly as an office building, the structure's outside design is inspired by the Italian Renaissance and the central court stands five stories tall. It's also appeared in other films, such as the final scene of 500 Days of Summer. 
7. Star Wars Episode II: Attack of the Clones — Villa del Balbianello in Italy
This is the gorgeous location of Anakin Skywalker and Padmé Amidala's secret wedding. The villa overlooks Lake Como and is known for its terraced gardens (right where the two Star Wars characters exchanged their vows). Originally built in 1787 on the site of a Franciscan monastery, it was bought by a wealthy explorer in 1974. After his death, the villa was left to the National Trust of Italy.
8. Her — Walt Disney Concert Hall in Los Angeles
The Walt Disney Concert Hall is the place where Theodore and Samantha watch people and make up stories for them. A metallic behemoth, the hall is much more futuristic looking than surrounding buildings. It seats 2,265 guests and is the home of the Los Angeles Philharmonic orchestra. It opened in 2003 and was partially funded by a $50 million gift from Lillian Disney. 
9. Dune — Samalayuca Dune Fields in Mexico
All of Dune was filmed in Mexico, and the Samalayuca Dune Fields were perfect to portray the barren desert planet Arrakis, home to those gruesome, gigantic sandworms. Many of the exterior shots were filmed in the fields, also known as Los Medanos. White or tan in appearance, the dunes are composed of almost pure quartz. It's a hotspot for tourists and is the home to hundreds of native species.
10. V for Vendetta — Aldwych Underground station in London
The Aldywch Underground station closed its doors to the public in 1994, but it played a key role in 2005's V for Vendetta. Parts of the station and the connecting tunnels were used as bomb shelters during the Blitz, when Germany dropped explosives on London and other cities in England. It was reopened in 2010 for tours and World War II reenactments.
11. The Hitchhiker's Guide to the Galaxy — Trefil Quarry in Wales
Vogsphere is a peculiar planet where if you think, you'll get hit in the face by a shovel-like creature that pops up from the ground, since they prey on free thought. Hitchhiker's' exterior shots were filmed here in the quarry, which lies in southern Wales.
12. Galaxy Quest — Goblin Valley State Park in Utah
Tiny, sharp-toothed blue aliens and earth-shattering golems don't usually roam Goblin Valley State Park. It's most well-known for its mushroom-shaped rock formations that stand several feet high. Visitors are allowed to hike three marked trails in the park, but the chances of coming across the aliens from Galaxy Quest are slim.
From rocky to watery to green, there are all kinds of real-life sci-fi worlds to explore, all of them awesome even beyond the movie magic.