Powerful Photos Show a Side of Syria's Civil War We Rarely Talk About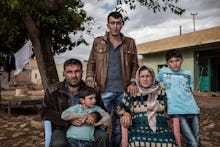 Syria's bloody civil war has displaced almost half the country's population, with more than 3 million refugees registered in the region. Over the past two months alone, more than 200,000 have fled the Islamic State's advance on the Syrian Kurdish city of Kobani into neighboring countries.
This exodus to Turkey is particularly bitter: What was once a joyful journey to visit family across the border is now forever marked by pain and loss. Finding refuge with friends, family and acquaintances may be an improvement on camps and public shelters, but it also means bringing home the war in new ways across the region.
Meet five families who've made the journey, reuniting with loved ones in the midst of sorrow and separation.
The Breadmaker's Uncle
When 41-year-old Ibrahim, one of Suruc, Turkey's most cherished bread-makers, heard the news that the Islamic State was surrounding his cousin Veysi's village near Kobani, he rushed to grab his cellphone.
"I told them to get out of there right away... to come here," he says, in the tiny gray courtyard of his apartment, tucked away behind his bakery just miles from the Syrian border. "It's just as much their home as it is ours."
So Veysi, his wife and children packed up as much as they could – some clothes, a few books and family jewelry – and fled to the border where Ibrahim was waiting, still in his baker's apron.
"The Kurdish life in Syria, and everywhere, has always been hard," says Veysi. "But this is something we never imagined."
Veysi spends most mornings as an extra hand in his nephew's bread shop, which turns out around 1,500 loaves a day. On most afternoons, he catches a ride to the border, where through borrowed binoculars, he can catch a glimpse of not only his village under plumes of smoke, but his past, present and future colliding in the rubble.
"Everything has changed," says Veysi's wife, Feyime, her eyes glued to a small television playing bloody montages from her hometown. "For us, for Turkey, for the whole region."
Ibrahim's family usually celebrates the Muslim holiday of Eid by purchasing new clothes and sheep. But this year they couldn't bring themselves to buy anything.
"We live like them now," says Ibrahim's wife, Songul. "Their struggle is our struggle."
The last time Ibrahim's family visited Kobani, Feyime cooked up a big feast of fete gost, cooked lamb's head stuffed with rice.
"The next time we go, we'll celebrate with the biggest head in all of the land," says Ibrahim, his smile stretching up to his ears and his dough-speckled hand clenching Veysi's. "We'll eat it all and be happy."
The Soccer Player
Ahmed has always loved soccer, but he didn't start playing until three years ago.
The 36-year-old baker and father of five has spent the last twenty years toiling away at a family bakery, with little time for recreation beyond his impoverished neighborhood. But upon the Kurdish Democratic Union Party's taking control of Syria's Kurdish region, called Rojava by Kurds, the mayor of Kobani built the town's first official soccer field. Soon Ahmed started playing for "Team Kurdistan," one of 15 teams in Rojava's new league. His team made it to a championship game held in Suruc, where Ahmed says he played the best game of his life.
"Suruc then became my second home," he says. He never thought it might soon become his only home – that the land of one of his greatest victories would also shelter him from his greatest defeat.
Ahmed now lives in Suruc with his wife, Fatima, and their five children. When the Islamic State advanced on Kobane on Sept. 19, his family fled, leaving behind everything, including his beloved soccer uniform. They've sought shelter on his uncle's farmland in one of his deserted and dilapidated two-room homes.
"Crossing into Turkey used to be thought of as a vacation... a short break to visit family," he says. "Now it's survival. Everything is upside down."
Before fleeing Kobani, Ahmed rushed to the hospital to pick up his father, who had been admitted for ten days due to severe diabetes complications.
"We knew it was a risk taking him," he says. "But it was even more of a risk to leave him."
Tragically, the risk did not save his father. The family says they were held up at the Turkish border crossing for three days and couldn't find a hospital that would admit him. Two weeks later, he died.
Ahmed says that when they return to Kobani, the first thing they'll do is hold a proper funeral ceremony in his father's village.
"There's no worse fate," he says through tears, "than dying without your home."
The Mayor's Nephew
Forty-five-year-old Abdullah still remembers the first time he visited his uncle Heli's farmhouse in Marut, Turkey.
"It was big and beautiful... and it still is," he says, recalling how he brought his uncle some sheep and pastries as gifts.
He never thought, some 40 years later, that he and his family would live there in a brutal involuntarily exile.
"It's a dream," he says. "A very bad dream."
When Islamic State fighters moved on their village on Sept. 19, Abdullah, a successful farmer, was forced to leave behind his family's life savings: a slew of cows, sheep, chickens and other livestock. They walked five hours to the Turkish border, with a lone brown suitcase and an ache in their necks from repeatedly looking behind.
"I always wanted my children to be something more than farmers," he says. "But now they can't even be farmers... my land, my animals are gone... There are no assurances left."
The past four years have been a slow sort of death, Abdullah explains. As the war raged on in Syria, school had stopped; many teachers were not being paid and soon became fighters. His 11-year-old son, who saw a classmate die in shelling, has suffered from chronic nightmares and sleeping fits.
None of them are who they used to be.
His Uncle Heli, who has been mayor of his village of 1,500 for 10 years, says watching them go through the anguish of war is a slow death for all Turkish Kurds. He's hosting 40 or so Syrian families in his village alone.
Heli is a relatively well-to-do man, with a stable of horses that he says are worth several thousand dollars, but he says he wishes he could sell them all to make things better.
"But some things you can't solve through your wallet," he says. "Some things you can never change."
The Dentist
For Osman, a 48-year-old dentist with a penchant for challenges and a thirst for fast results, root canals are the most difficult procedure. But they're also the most enjoyable.
"There's always pleasure in the struggle," he says, sitting in the garden of his uncle's home on the outskirts of Suruc.
But he hasn't been able to see the silver lining in his most recent struggle, a tragedy that brings his 98-year-old mother Emine to unending tears.
"My whole life I had a closet full of dresses and now I just have this one." she says, fingering the sleeve on her ragged floral black dress. "What can we do?"
The middle-class family never thought the Syrian war would spill into their homes, upending their closets and disrupting a peaceful life in which they didn't have much, but had enough.
When one of their neighbors died in nearby fighting, Osman and his three brothers decided it was time to flee to their uncle's home in Turkey. They took turns carrying their mother across the border.
Emine says the move has been the most difficult on Osman, who had always been her "most clever son," achieving top marks at Aleppo University and always striving to make something of himself.
"I don't even have anyone to call to check on my office," Osman says, fearing that his 20-year-old dental practice has been destroyed. "I used to have days filled with 10 patients."
He now spends his mornings driving around nearby towns, looking for work. At this point, the bookish dentist says he'll work in any field just to keep his mind sharp.
"Now we just eat and sleep and eat... It's an empty life," he says. "It's more painful than a root canal."
The Aspiring Pilot
If 23-year-old Aris had one wish, he'd fly away into the clouds.
"I'd go into the sky," he says. "And I'd forget everything."
Since he was little, Aris always dreamed of being a pilot and living in the sky. He had one year of training left at the University of Aleppo until he was forced to place his dream on hold indefinitely. One night three months ago, he says, five of his classmates were killed on their way back to Kobani from Aleppo, their throats slit by Islamic State fighters.
"There's nowhere safe for Kurds," he says. Since leaving school, he's worked in construction in Turkey, temporarily living at his uncle's home near the border.
When he heard that five men in his village were decapitated by the Islamic State, he and his uncle forced the family to join them in Turkey.
"We didn't think they'd ever come for us," says his father, Mostafa. "We're poor. We don't have oil, we don't have anything... What do they want from us?
Aris' family is now living in his uncle's deserted pockmarked building with eight other families. His youngest brother, 4-year-old Azad, which means "freedom" in Kurdish, hasn't stopped crying and wetting the bed.
His mother, Hedlan, says she wishes she could cry. What's worse than feeling pain is feeling nothing at all.
"One day I will fly my family away from here," says Aris. "I will take them away in the sky and fly us back home."