If Conservatives Were Really "Pro-Life", Here's What They'd Be Fighting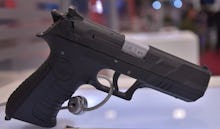 Tennessee voters dealt a major blow to women's right to choose Tuesday when they passed Amendment 1, an anti-abortion measure that will severely restrict access across the state. 
The amendment eliminates Tennessee's current definition of abortion as a "fundamental" right, allowing lawmakers to create new abortion laws — something they previously couldn't do — that could inflict medically unnecessary restrictions on women seeking abortions.
Let's be clear: Amendment 1 is not about protecting women. It's about punishing them for having sex and rejecting forced motherhood. 
Proponents of Amendment 1 insist their efforts hinged on protecting women from the dangers of abortion. Their campaign invoked imagery of imminent peril with language like "Help provide safeguards to women considering abortion" and "Restore life." Yet the linguistic footwork is nothing but a falsehood.
If anti-abortion activists and politicians, like those who campaigned on behalf of Amendment 1, were truly concerned with the sanctity of life, they would work towards eliminating real threats. Here are five places they could start:
1. Climate change
Human-made climate change will have far-reaching consequences for Earth and human life as we know it. From impacting food and water supplies to species extinction, large-scale migration and global economic hardships, climate change already poses very real threats. In a recent report, the U.N. has given us 85 years to combat global warming, or else face irreversible effects to the planet's habitability. The World Health Organization estimates that climate change is responsible for 150,000 deaths annually.
2. Gun violence
The Washington Post recently reported on gun violence and mass shootings, citing data from the Centers for Disease Control and Prevention. There are 31,672 deaths every year involving guns, which "works out to about 308 shootings and 86 deaths every day." That's a lot of violence and unnecessary deaths — which disproportionately affects youth in urban communities — yet gun control legislation keeps stalling. 
3. Domestic violence
The statistics on domestic violence are staggering: 24 people per minute are victims of rape, physical violence or stalking by an intimate partner in the United States, or 12 million people per year. Almost one-third of female homicide victims are killed by an intimate partner, with guns making it even easier for abusers. According to the National Institute of Justice, two-thirds of spouse and ex-spouse homicide victims were killed by guns from 1990 to 2005. 
4. Maternal mortality
As it turns out, first-trimester abortions are extremely safe and pose very little danger to women's health. 
According to the Guttmacher Institute, a first-trimester abortion is one of the safest medical procedures available, with minimal risk (less than 0.05%) of major complications that might need hospital care. Conversely, there are 18.5 maternal deaths per 100,000 live births in the U.S., an increase from 12.4 deaths per 100,000 births in 1990. And African-American women are at almost four times greater risk than white women.
5. Texting and driving
While not exactly a partisan issue, texting and driving threatens lives. According to the U.S. Department of Transportation, cell phones are involved in 1.6 million auto crashes each year, which claim 6,000 lives annually.
-------
Time and time again, we see opponents of reproductive rights recycling the same stereotypes about abortion: that it's dangerous to the mother, or that it threatens the "sanctity of life." But as the above points prove, if politicians were actually serious about preserving life in American — and around the globe — there are much, much more important things to worry about than a woman's right to choose.