Meet the 18-Year-Old Girl Who Just Became the Youngest Lawmaker in America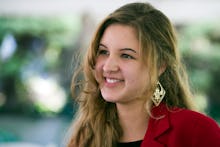 The youngest new legislator in the U.S. is an 18-year-old college student in West Virginia who ran a successful boot-strapped campaign out of her dorm room.
Saira Blair, a Republican and freshman at West Virginia University, was elected to the state's House of Delegates in Tuesday's midterm elections, defeating her 44-year-old opponent Layne Diehl, a Democrat, by a whopping 63% to 30%.
Blair's victory makes her the youngest state lawmaker in America. Fewer than 5% of the country's 7,300 state legislators are under 30 years old, according to data from the National Conference of State Legislatures reported by the Wall Street Journal. 
Her win is a helpful reminder that young people can make a difference in politics. 
Blair split her time between campaigning and college and plans to defer her spring semester classes to serve in the legislature. She's a conservative and spoke to the Wall Street Journal a few weeks before the election about her approach to politics and campaigning:
Now in her first semester of college, she does most of her campaigning out of her dorm room. A 16-page flier trumpets her antiabortion and pro-gun positions, and her desire to reduce certain taxes on businesses.
Blair raised more than $15,000 for the race and contributed $4,000 of her own money to her campaign, which she saved from working on her family's orchard.
"When I made the decision to run for public office, I did so because I firmly believe that my generation's voice, fresh perspective and innovative ideas can help solve some of our state's most challenging issues," Blair said in a statement posted to Facebook after results came in.
"History has been made tonight in West Virginia, and while I am proud of all that we have accomplished together, it is the future of this state that is now my singular focus."
Blair's story is an inspiring reminder that politics doesn't have to be controlled by big-money donors and party machines. Sometimes, even an 18-year-old sitting in her dorm room can work hard and get elected to office and begin to make a difference. And that's worth celebrating, especially after an election cycle dominated by outside spending and special interests.