One Chart Shows Who Really Won on Election Day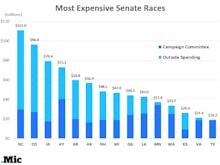 The news: Election Day wasn't a win for democracy. It wasn't even necessarily a win for the Republican Party. It was a win for corporations and the ultrawealthy.
Outside spending far outstripped expenditures by candidates themselves, making many of 2014's hotly contested Senate races — the ones that determined control of Congress — as much or more about the interests of major corporations and a handful of rich Americans. In these 15 races alone, campaign committees and outside spending together came to roughly $830 million. 
Money made this election: This year's midterm races are projected to have cost roughly $3.67 billion, according to an analysis by the Center for Responsive Politics.
In general, outside spending gave Republicans an edge: Across all 2014 races, conservative groups spent $404 million to liberal groups' $348 million. Nondisclosing "dark money" groups gave the GOP a crucial edge, with conservative groups with anonymous donors spending an astonishing $124 million, compared with just $33 million for liberals.
In the eight Senate races where outside spending exceeded campaign spending (excluding low-stakes Mississippi), the totals came to about $177 million from the candidates and an astonishing $367.74 million from outside sources. Of the 10 most expensive races, only in Kentucky, Georgia and Louisiana did candidates outraise outside groups:
In two races where spending by campaigns exceeded outside expenditures, outside money still made a big difference. In Kentucky, Senate Minority Leader Mitch McConnell attracted almost $22 million in pro-Republican outside spending compared with just $10.8 million in favor of Alison  Lundergan Grimes, further boosting his $10.47 million lead in campaign spending over her. 
In Georgia, Republican David Perdue lagged about $2.5 million behind Democrat Michelle Nunn even after spending about $3.7 million of his own money. Outside spending in his favor allowed him to run a much more competitive campaign, with right-wing groups generating $14.3 million to liberals' $5.7 million.
Dark money has no political preference, of course. In the most expensive race, North Carolina, Republican Thom Tillis raised just $9 million in campaign funds to Democrat Kay Hagan's $22.9 million. But outside money helped him stay competitive: While $42 million in outside spending came from liberal groups, conservative ones raised $34.5 million. About $17.68 million of the pro-Republican money came from sources that choose not to disclose their donors, like the U.S. Chamber of Commerce ($5.6 million), Karl Rove's Crossroads GPS ($4.9 million), Carolina Rising ($3.3 million) and the National Rifle Association ($1.9 million). Polling tended to favor Hagan, especially before the money came pouring in.
Why you should care: Outside money really did help buy elections this year, and it's helping the cost of elections swell to previously unimaginable heights. If current trends hold, the cost of elections will keep increasing over time.
No one should be happy about this, even Republicans. American politicians increasingly listen to a small cadre of economic elites and interest groups whose interests often don't reflect those of average citizens. Skyrocketing spending on elections is only likely to accelerate D.C.'s dysfunction. For anarchists uninterested in governance, that's one thing. But both parties now suffer from low congressional approval ratings, making this a risky game. 
Selling out American politics only benefits those with the money to buy it.