Missouri Just Scored a Huge Victory for Same-Sex Marriage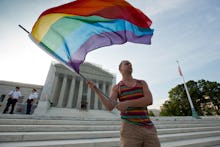 A judge in St. Louis has ruled that Missouri's ban on same-sex marriage is unconstitutional, the St. Louis Post-Dispatch reports.
St. Louis Circuit Judge Rex Burlison made the ruled that the Missouri Constitution violates the Equal Protection Clause and Due Process Clause of the Fourteenth Amendment to the U.S. Constitution.
Editors Note: Mar. 2, 2015 
An earlier version of this article cited Associated Press reporting, but did not include quotations around the cited passage. The story has been updated to fully attribute the Associated Press' language.