Netflix Is Turning Lemony Snicket's Beloved Series Into a New Show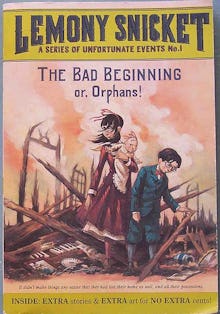 Chris Drumm
The news: In a decidedly good turn for Lemony Snicket fans, Netflix is making the popular A Series of Unfortunate Events books into their latest original series.
This is another intellectual property Netflix has added to its impressive library, which includes properties from Marvel and DreamWorks.
"I can't believe it," Snicket, whose real name is Daniel Handler, said in a statement. "After years of providing top-quality entertainment on demand, Netflix is risking its reputation and success by associating itself with my dismaying and upsetting books."
This isn't the first time the books received mainstream attention. In 2004, Paramount made portions of the series into a film starring Jim Carrey.
Even though the film didn't perform admirably at the box office, Netflix is optimistic about their series.
Netflix's vice president of original content, Cindy Holland, told Entertainment Weekly that A Series of Unfortunate Events was "the first stop" on the search for "fantastic material that appeals to both parents and kids." She said "the world created by Lemony Snicket is unique, darkly funny and relatable. We can't wait to bring it to life for Netflix members."
Another excuse for a Netflix marathon? Count us in.