Last Night's CMAs Proved That There's a Big Revolution in Country Music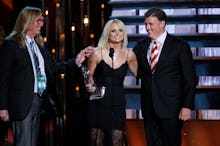 Female country artists were notably underrepresented on Billboard's country charts all year. But they had a huge impact at the CMA awards last night. 
What female artists lacked in chart positions or even nominations at the big ceremony, they made up for in the prestige of their wins. Miranda Lambert was the only female nominee for Album of the Year, but she took the trophy, and rightfully so. Platinum is an incredible album. But Lambert's was far from the only big win for country's progressive women: Wednesday night was a sign that times are changing for the women of country.
Kacey Musgraves, a Texas songwriter, scored a big win for Song of the Year with "Follow Your Arrow." This was never expected to beat out competitors like Dierks Bentley with "I Hold On." It's a surprisingly progressive song for a genre not known for being the most open-minded or liberal. 
"Make lots of noise / Kiss lots of boys / Or kiss lots of girls / If that's something you're into," Musgraves sings on the hook. It's a far cry from the standard pickup truck and Budweiser love song.
She wasn't the only win for progressive music, though. Nashville-based songwriter and Top 10 Queen Meghan Trainor performed her progressive "All About That Bass" as well, alongside Miranda Lambert. The song celebrates plus-sized beauty that is frequently overlooked by mainstream media, especially the kind that loves its jeans "painted on." While the poppy number did sound odd with the addition of slide guitars and fiddles, it still had a good groove to it.
The emphasis on the quality of country's female performers matters a lot coming from the CMAs. They're likely the most music-centered award show of all, so they actually set trends for the traditional country crowd. That's especially important considering the gender disparity that still rules the country charts even when the pop charts are increasingly female-dominated (thanks to Trainor and Taylor Swift, especially). The way the award show highlighted its more progressive songs shows that the industry might heading in a more open and accepting new direction. Last night was a huge moment for women in country, and the days to come will only get better.