A 'MythBusters' Star Has an Important Message on Women in Science and Technology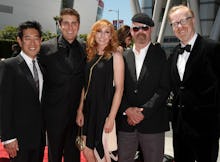 MythBusters star Adam Savage sees a problem he can't solve by blowing things up on camera.
It's about representation of women, both in science and in Hollywood. Savage didn't mince words when he sat down for an interview with Mother Jones that touched on gender issues in everything from science education to GamerGate.
"Shit's tough for girls. I'm really sorry about that," he said. "I have to imagine that our culture is constantly promoting impossible ideals."
A White House report last year found that women made up less than a quarter of the country's science, technology, engineering and math (STEM) workforce. Getting more women into those fields isn't just a feel-good matter: They earn 33% more, on average, working STEM jobs.
Different challenges: Savage brought up Kari Byron, the now-former co-host of MythBusters, as someone who had to face a great deal of pushback simply because she was a woman in a field dominated by men, saying that he's "watched the evolution of the terrible shit Kari's had to deal with as a public figure and a woman and a science communicator."
Byron, who says she nearly lost interest in science as a kid before rekindling her love of it years later, told Dame Magazine about how important it is to have young girls see female scientists on their television screens (and in real life).
"A lot of role models at that age are generally beauty or rock music or actresses," she said. "There's not a lot of faces you see on TV where there's a woman in a role as a scientist."
What can be done? Savage recognizes that his ability to preach about feminism is limited. "The problem I have is that I'm a white dude," Savage told Mother Jones. "And I recognize that my privilege makes it impossible for me to say, 'There should be more women in science' without sounding like I'm proclaiming from on high."
The best way to deal, he said, is to make sure women are front and center for viewers, especially young and impressionable ones.
"I bring women into the things I'm doing because they absolutely are part and parcel of all of the storytelling and the science and the scientific discovery that we do," he said. "And little girls need more role models in critical thinking. Absolutely. But I also recognize that that's not me. ... I could be a little girl's role model, but I'm not going to be her ideal role model. She needs a woman to do that."
Sexism in the industry is no myth, as women like Byron know firsthand. But that doesn't mean it can't be busted.