These Colleges Have a Surprisingly Simple Plan to Fight Our Student Debt Problem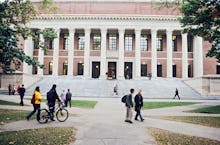 The news: Colleges are cutting the "college experience" short a year short to help students control their debt.
Universities across the country — the most notable of which include Purdue University, the University of Iowa and the University of South Carolina — are now offering three-year bachelor's degrees as opposed to the far more ubiquitous four-year variety.
Unfortunately, an extra year of beer pong and debauchery seems more enticing to students than their financial futures — the three-year degree programs haven't been popular.
"Parents are really interested in saving time and money," Jenna Templeton, vice president of academic affairs at Chatham University in Pittsburgh, told the Wall Street Journal. However, "the students are really interested in the four years of a college experience."
The Wall Street Journal reported 61 students were enrolled in Chatham's three-year degree program for interior architecture. Three-quarter of the students are on pace to graduate in three years.
Other schools aren't as fortunate. Lipscomb University in Nashville only has fifteen people seeking their three-year degree, and only three of them will likely graduate in three years.
But this isn't endemic to the three-year degree. For example, only 39% of students seeking the standard four-year bachelor's degree actually get it within four years.
These schools shouldn't be faulted for trying, though. College tuition has increased by an unbelievable 1,225% since 1978. As a result of the incessant increases, the Class of 2014 became the most indebted class in history, owing $33,000 per average debtor.
Some schools proposed other solutions to the debt crisis. The $10,000 bachelor's degree — a program stripped down to solely academic essentials — became a highly talked about fix for higher education's woes earlier this year. That, too, hasn't taken off.
Americans about to attend college may want to reflect on what's important — re-enacting Animal House or graduating with a financial future.