Tensions Between Arabs and Jews in Jerusalem Have Risen to Their Highest in Years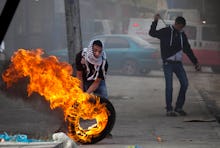 The news: Tensions between Arabs and Jews in Jerusalem have risen to their highest in years as violent attacks in recent weeks have rocked the main highway separating Israeli-controlled West Jerusalem from Palestinian East Jerusalem.
Although minor conflicts between residents are a near-daily occurrence on the diverse streets of Jerusalem, the latest escalations have led to the closure of holy sites across the city. On Wednesday Moussa Ibrahim al-Akari, a 38-year-old Palestinian man, rammed his vehicle into a crowd of people at a light rail station before exiting the car and hitting pedestrians with a metal rod. One person was fatally wounded before police shot and killed al-Akari, the Associated Press reported.
The militant political group Hamas did not claim responsibility for the attack, but praised al-Akari, a Hamas member who was recently released from an Israeli prison.
Why is Jerusalem on the verge of a major escalation? East Jerusalem has seen Palestinian youths clashing more and more frequently with Israeli police and military forces. As Reuters reported, protests started in July after a Palestinian youth was killed in an alleged revenge attack by three Israelis. That came after three Israeli youths were killed by Hamas militants.
The tensions reached a tipping point on Oct. 30, when Israel blocked access to what it calls the Temple Mount and what Muslims call the Noble Sanctuary in the Old City, a move that a Palestinian representative denounced as a "declaration of war."
"All the stress on Jerusalem people make an explosion," Hussam, a human rights worker in the Shuafat refugee camp, which al-Akari once called home, told the Christian Science Monitor.
Local media reported that the presence of Israeli security officers tripled in the Old City to a force of 3,000 after Israel reopened access last Friday.
"If police continue [like this], you will see more and more operations like this in Jerusalem," Hussam said.
Now what? There are three widely viewed options for the conflict's resolution: A one-state solution, a two-state solution or, the cynical view, the annihilation of either side."Build a giant wall to separate us," a resident of the neighborhood identified only as Yossi told the CSM. But as countless territorial disputes and border skirmishes have shown — from North and South Korea's demilitarized zone to the U.S.-Mexico border — building a massive concrete wall only widens existing divides.
It's important to note that each crisis has its own characteristics, though physical boundaries parallel the politics. This week marks the 25th anniversary since the fall of the Berlin Wall. The barrier that existed from 1961 to 1990 cut off democratic West Berlin from the Communist East, and its eventual destruction signaled the end of the Cold War.
As recent weeks have shown, the conflict between Arabs and Jews in Jerusalem quite literally collides at the holy site revered by both of them. For the two sides battling over the city, it is not a matter of building a wall. It's a matter of building a bridge toward reconciliation.