Meet the Women Who Are Fighting Back Against Online Harrassment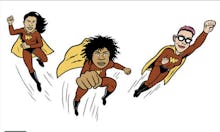 Twitter (and the rest of the Internet) has a problem: Women are being harassed, and not much is being done about it. But thanks to a new pilot program, feminist nonprofit Women, Action & the Media is trying to change things for the better.
Under the initiative, Twitter users will be able to report harassment to WAM, which has obtained special status in sending complaints along to Twitter. WAM will also be collecting data on harassment complaints, and Twitter's response to them, to figure out how to make the social media site safer for users.
"We really see it as a free speech issue," Jaclyn Friedman, the group's executive director, told Mic. "It would be illegal if it was done literally, physically in public. And we know that women of color, queer women, trans women get it even worse."
The background: Friedman said that discussion of how to help began in October, around which time there were a number of high-profile harassment cases. Many of the attacks were tied to #GamerGate concerns over women having thoughts and opinions.
WAM has previously worked with Facebook, successfully calling on the site to take action against gender-based hate speech. The new agreement with Twitter will allow the group to help women in need while figuring out potential better policies moving forward.
"I thought, 'That seems like a great service that we could provide to people." Friedman said. "It's an opportunity not just to help women in the short term but to collect information: What types of harassment [is Twitter] just not handling well or not responding to?"
The state of affairs: While WAM's involvement is certainly a positive development for victims of online harassment, a population that includes as much as 25% of young women online, the fact remains that a big company like Twitter shouldn't need this kind of help.
"It's not fair or OK that we need to put our resources into doing this," Friedman said, adding that Twitter "shouldn't require an underfunded nonprofit staffed by two people" to keep users safe. Still, they feel compelled, and social media is better for it.
"Some of these are very urgent issues, even if you're not being threatened with violence," Friedman said. "These are the sorts of things that drive women offline."