T-Pain Just Released the Song That Will Redefine His Legacy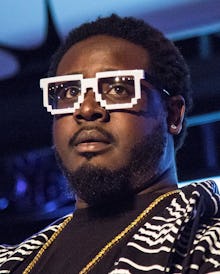 T-Pain just released a new single, and it's a game-changer.
T-Pain has always been much more than Auto-Tune, and these days he wants the world to know it. He just dropped the title track from his highly anticipated Stoicville. It's by far the deepest, most personal and most introspective that we've ever seen the man.
"Stoicville" is one of more than 120 songs T-Pain wrote for the upcoming album. That's an awe-inspiring number. It's more songs than Michael Jackson wrote for Bad and more than Springsteen wrote for Darkness at the Edge of Town. If the rest of T-Pain's album is as deep and affecting as this cut — or as infectious and fun as his first single, "Up and Down (Do This All Day)" — we may have a serious masterpiece on our hands.
There are no long-legged bartenders or Patron bottles popping in "Stoicville." The song is a brutally honest trip down memory lane, starting from back when Pain was a shorty: "Coming home from school, I had tears in my eyes / They was picking on me and wouldn't give me my hat back."
He then charts his progress to the top, rising above his bullies, overcoming his alcohol addiction and suicidal thoughts, watching his fame change him. It's nearly six minutes of fascinating, confessional raps — no hooks, no Auto-Tune, just raw, uncut Pain.