The Details of 'Toy Story 4' Have Been Announced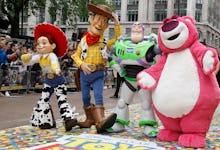 Rejoice! Disney Chairman and CEO Bob Iger announced that plans are in motion to make Toy Story 4 a reality. Even better? John Lasseter, the director of the first two Toy Story films, will be at the helm. 
Entertainment Weekly reports that the film will hit theaters in June 2017. "John [Lasseter] created Toy Story and directed the first two films, and it's great to have him back directing one of our most valuable properties," Iger said. He disclosed the news during a call to investors on Thursday afternoon.
Lasseter will return to bring Woody, Buzz and the rest of the Toy Story gang back to life, which is sure to thrill fans of the original films.
Lasseter directed the first two films — though not the third — which means he's returning to shepherd the series. He's the chief creative officer at Pixar and Walt Disney Animation Studios, and besides Toy Story, he directed A Bug's Life, Cars and Cars 2. He was also involved with Frozen and Wreck-It Ralph, which were both enormously successful at the box office. 
In short? Toy Story 4 is likely going to kick ass.