Stunning Google Earth Photos Show Just How Much Humans Change the Planet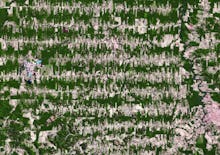 From the rise of cities to the depletion of the Amazon, humans are vastly changing our planet's landscape. "Mind the Earth," a new exhibition at the Danish Architecture Centre in Copenhagen, Denmark, is illustrating the world's transformation using images from Google Earth. The exhibit is focused on four themes: food, energy, transport and water.
According to DesignBoom, visitors will enter a dark room with aerial photos projected onto the floor. The shifts in the world will be visualized by displaying the same area through different periods of time. There will also be additional information and "thought-provoking philosophy" to help expand visitors' thinking.
"Mind the Earth" is a remarkably compelling concept that simply wouldn't have been possible a decade ago.
Aral Sea, Kazakhstan, 1999 / 2013 
Dubai, United Arab Emirates, 2003 / 2014
Amazon rain forest, 1975 / 2008
Martin Winther, experience communication manager at the Danish Architecture Centre, spoke about the project in a news release:
"Visitors to the exhibition will be thrilled and amazed by the Earth's diversity, but at the same time reminded that the Earth's resources are not infinite, and that we have a joint obligation to look after what we have."
We might be able to see some day-to-day changes in front of us, but by using aerial photos from different points in time, the exhibit showcases how different the world is from decades ago. And while it's remarkable to see the progression of civilization through urbanization, it's also devastating to see the effects of climate change and human irresponsibility when it comes to preserving our natural habitats.
Globalization has its benefits. We expand the parts of the world humans can exist in and find new ways to live. But as lakes begin to dry, forests continue to fall and glaciers gradually melt, there are other things humanity needs to consider before just plopping down a city wherever. 
The exhibit is a collaboration between architect Kasper Brejnholt Bak and author Morten Søndergaard. It opens Nov. 20.