Pink Floyd Just Made History One Last Time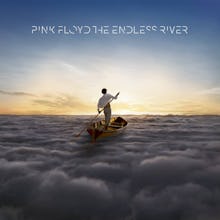 The Wall, Dark Side of the Moon, Wish You Were Here, Animals — Pink Floyd has had one of the most consistently groundbreaking careers in music. And almost 50 years in, on the band's last record, it has made history one last time.
The band's newest album, titled The Endless River, is set to drop Tuesday, and it just became the most pre-ordered record in Amazon UK's history.
The album soundly beat out previous record holder One Direction's Midnight Memories and Robbie Williams' Swings Both Ways, which now holds the No. 3 slot. Both of those albums were driven by huge singles. Pink Floyd hasn't had any of that same promotion — not that it would have done much for them, anyway. The album is made up mostly of ambient, instrumental tracks from the sessions for the band's last album, The Division Bell, released in 1994. 
The band has managed to move this much music on the strength of their name and catalog alone.
The numbers shouldn't be all that surprising, though. Well-known, classic names have sold really well this year. Ann Powers for NPR Music hypothesizes that listeners are flocking to familiar names and songs because the news this year has been so pointedly brutal. Older names with strong nostalgic appeal for listeners apply a healing balm to the troubled mind that modern Top 40 just can't provide. For many fans, Pink Floyd has always been there.
But all good things must come to an end. And it's better to go out with a bang, breaking a sales record, than to fade away into irrelevance like so many classic rock bands have done before. Shine on, Pink Floyd.