Indigenous Artists Finally Get the Spotlight They Deserve in New TV Series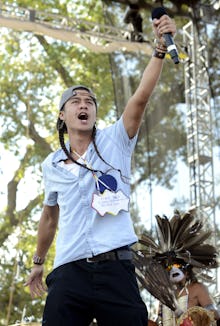 There's plenty to be excited about in today's indigenous arts scene, and MTV just gave the world one more reason: The network will air at 4 p.m. Thursday an episode of Rebel Music dedicated to four of the U.S. and Canada's most dynamic young indigenous creatives:
The show's webpage introduces them and highlights their contributions to their respective mediums.
Frank Waln is a hip-hop artist and activist from South Dakota's Rosebud Reservation who uses music to address issues ranging from colonialism and state violence to environmental degradation:
Inez Jasper, a native of Chilliwack, British Columbia, infuses her take on modern pop with distinctly Native sounds and a lifetime of unique extra-musical experiences:
Nataanii Means is an Oglala Lakota and Navajo hip-hop artist whose lyrics touch on "freedom, identity, government policy and genocide," according to MTV:
And Mike Cliff, who goes by the moniker "Witko," hails from the Pine Ridge Reservation in South Dakota, uses hip-hop, street art and graphic design to explore contemporary indigenous struggles around poverty, land, resources and Native identity.
If these artists seem uniquely concerned with the societal factors informing their sense of place, power and identity, that's intentional. According to the New York Times, Rebel Music is a year-old series that looks at  global "conflicts and culture ... through the eyes of local artists and activists" and has dedicated earlier episodes to conflicts in Egypt, Afghanistan, Mali and Mexico.
Colorlines reports that the 30-minute indigenous feature will launch from Rebel Music's Facebook page and coincide with November's Native American Heritage Month. As the trailer indicates, it won't just focus on the work of the artists — the persistent socioeconomic inequalities facing Native communities today, from disproportionately high suicide rates to land rights, substance abuse and sexual assault, will also come into vivid focus.
The episode constitutes another step toward winning the respect these artists and their peers deserve. The voices of indigenous creatives have traditionally gone under-recognized in pop music, but recently, hip-hop artists like SupaMan, City Natives and electronic collective A Tribe Called Red have begun accumulating followings worthy of their talent.
It's about time. Hopefully this episode goes a long way toward pushing this pattern into the future.
h/t Colorlines