An Appeal Court Upheld Four Gay Marriage Bans — But That May Be a Good Thing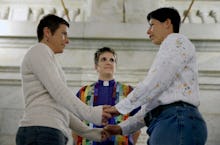 Marriage equality suffered a setback in court Thursday, but don't fret: It might mean the country will get a national ruling on the issue sooner rather than later, putting the debate over marriage equality to bed once and for all.
The Sixth Circuit Court of Appeals upheld gay marriage bans in Kentucky, Michigan, Ohio and Tennessee in a 2-1 ruling. (It was two Republican-appointed judges on one side and one Democratic-appointed judge on the other.)
The silver lining is that this puts federal courts at odds, which can be a surefire recipe for a Supreme Court ruling. While the highest court turned down a chance to rule last month, surprising observers and keeping same-sex marriage legal in multiple states, Justice Ruth Bader Ginsburg has acknowledged that a situation like this would be harder to ignore.
The ruling: The decision is an outlier in what has been a generally positive stretch of rulings for gay marriage. Thirty-two states currently allow it thanks in large part to more than 20 court victories over the past year and a half, according to the Huffington Post. That includes four other appeals courts.
That didn't stop Circuit Judge Jeffrey Sutton from approving the ban in his majority opinion. "The right to marry in general, and the right to gay marriage in particular, nowhere appear in the Constitution," he wrote. "That route for recognizing a fundamental right to same-sex marriage does not exist."
Sutton went on to say that allowing gay marriage would mean there's nothing standing in the way of allowing polygamy, because opponents seem to have run out of things to say. (The U.S. already allows couples to receive benefits if they are of different genders, making it a question of discrimination, not a marriage free-for-all).
Moving up: The current stretch of rulings go back to June 2013, when the Supreme Court struck down the Defense of Marriage Act by ruling that the law, which barred legally married gay couples from certain federal benefits, violated the Fifth Amendment.
Despite that ruling, the high court has turned down chances to actually set the record straight on a federal level regarding same sex marriage. Ginsburg told a crowd in Minnesota that "there will be some urgency" to address the issue if federal court rulings contradict.
The DOMA decision may give advocates a reason to feel optimistic, though a Supreme Court ruling of 'gay marriage for everyone!' is far from a sure thing. The eventual decision may come down to swing justice Anthony Kennedy, who authored the DOMA decision but also temporarily halted gay marriage in Idaho with an injunction last month.
Either way, even after all these rulings, the current state of marriage equality means things are likely just getting started.