A Federal Judge Just Ruled Missouri's Same-Sex Marriage Ban Unconstitutional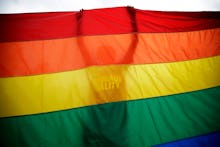 According to Reuters, "Missouri's ban on same-sex marriage violates due process and equal protection rights under the U.S. Constitution, a federal judge in western Missouri ruled on Friday."
Editors Note: Mar. 2, 2015 
An earlier version of this article failed to cite a passage from Reuters in accordance with Mic editorial standards. The article has been updated to properly attribute the language to Reuters.