8 Powerful Photos to Show People Who Think All Muslim Women Are Oppressed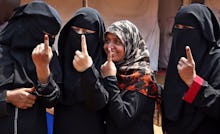 Voting. Driving. Forging peace. Protesting. Exploring outer space. At any given moment, these are all things Muslim women around the world are doing, even as Western culture continues to perpetuate the misconception that all Muslim women are somehow oppressed.
While issues of gender inequality — including violence against women, educational and economic discrimination, treatment within the family and more — plague all societies, Muslim-majority countries are often targeted for especially harsh criticism and generalizations.
Yes, women in predominantly Muslim societies face human rights abuses, but it's not the overly simplistic, bleak picture Westerners too often paint. Indeed, there are a plethora of strong, independent Muslim women who are standing up for their rights and leading society.
Look no further than Pakistani activist Malala Yousafzai, 17, who gained international fame when she became the youngest recipient of the Nobel Peace Prize last month for efforts rooting out extremism and sexism. But her story is just one good example of the courageous actions of Muslim women and girls around the world. 
The next time someone makes a blanket statement regarding Muslim women's persecution, show them these eight photos.
1. Saudi women defying the kingdom's driving ban.
In October 2013, nearly 60 female activists defied Saudi Arabia's driving ban for women by getting behind the wheel and documenting it. And to commemorate last year's activist campaign, Saudi women once again put themselves in the driver's seat, despite warnings not to. 
2. Yousafzai winning the Nobel Prize.
Yousafzai was shot in the head by the Taliban for advocating on behalf of girls' education in 2012. Not only did she survive, she soared. She has addressed the UN, met the Queen of England and was named by TIME magazine as one of its 100 most influential persons. Not to mention receiving the Nobel Peace Prize. 
3. Women protesting France's ban on headscarves.
In 2011, France outlawed burqas and niqabs, which sparked outrage from Muslim women across the globe. Protests erupted across France, and others followed suit, staging similar protests in the U.K. Eventually, legal cases ensued, although the courts ultimately sided with France. But that won't stop these women from demanding their human rights.
4. Women voting in India.
India's elections this year were the world's largest ever. As the Huffington Post reported, "Staggered over five weeks, a record of more than 500 million ballots were cast from the Himalayas in the north to the tropical south, with voters braving blistering heat for a record 66 percent turnout." Among those 500 million? Muslim women.
5. Protesting acid attacks in Iran.
Last month, thousands of men and women joined together to protest a recent spate of acid attacks on women, which left nine women injured over the course of three weeks. Although alleged perpetrators were arrested, Isfahan's police chief shifted blame to the victims when he said, "most of the women were not dressed appropriately." 
6. Being an astronaut.
In 2006, Iranian-American Anousheh Ansari became the first female private space explorer and the first Iranian astronaut. Despite not knowing English when she immigrated to America as a teen, she went on to earn a bachelor's degree in electronics and computer engineering from George Mason University, a master's degree in electrical engineering from George Washington University, as well as an honorary doctorate from the International Space University.
7. Defending their gender identity.
Three Muslim transwomen in Malaysia won a landmark court ruling Friday against a Sharia law that forbade them from cross-dressing. Transgender rights activist Nisha Ayub told CBS News, "We are thankful and overjoyed. It is a victory for human rights." 
8. Laughing.
Turkey's deputy prime minister attempted to ban women from laughing in public this summer: "[The woman] will know what is haram and not haram. She will not laugh in public. She will not be inviting in her attitudes and will protect her chasteness." Following the outlandish demand, women protested by taking pictures of themselves laughing and circulating them on social media with the hashtag #kahkaha, which means "laughter" in Turkish.