5 U.S. States That Could Learn a Thing or Two From This Giant Pink Australian Condom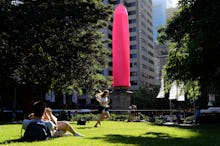 On Friday morning, residents in Sydney, Australia awoke to a remarkable sight: a giant pink condom sheathing the obelisk in Hyde Park, one of the city's most famous destinations. 
The rosy hued prophylactic was thought up by the AIDS Council of New South Wales (ACON) as a way raise awareness of HIV among the region's gay male population. The giant rubber represents the climax of a three-week-long campaign with the goal to end of transmission of HIV by 2020. 
The 59-foot erection will be in place for far longer than four hours — seven whole days, in fact, until Nov. 14. "This installation is sure to create lots of interest as we've selected a very visible icon in a high traffic area," ACON CEO Nicolas Parkhill said in a press release. "We're hoping to turn lots of heads as well as raise a few eyebrows, not only here on the street but also on social media where the reach of the campaign will be expanded throughout NSW and beyond."
"[C]learly there's a need for more education about condoms and safe sex in our community, and our campaign aims to do exactly that," he added.
Unsurprisingly, the massive condom caught the eye of passersby. The Guardian reported that one child told her father, "Daddy, look!" as they walked by ("he maintained his gaze firmly on the street"), while two tourists simply stared, "bewildered."
Given its eye-catching nature, it could be useful to places outside Australia, too — like the United States. Though the Australian condom targets gay men and HIV specifically, it has wider possibilities, and could be used to help promote safe sex, smart contraception choices and access to reproductive options for the general population.
The following states in America could definitely use some help when it comes to those things: 
1. New Mexico 
According to the Guttmacher Institute, which tracks reproductive rights, New Mexico had the highest number of teen pregnancies in the country in 2008, the most recent year for which information is available. The state had 93 pregnancies per 1,000 women aged 15-19, compared with the national average of 68 per 1,000 women. (New Hampshire had the lowest number — 33 per 1,000 women.) 
In 2008, federal and state governments spent $103 million on births that resulted from unplanned pregnancies in New Mexico; $73 million came from the federal government and $30 million came from the state.
2. Georgia
According to the Centers for Disease Control and Prevention, the Peach State ranks first among primary and secondary syphilis; the rate increased from 9.4 per 100,000 cases to 9.5 per 100,000 cases in 2012.
Besides syphilis, Georgia also has the seventh highest rate of chlamydia and the sixth highest rate of gonorrhea. As a whole, the southeast has the highest rate of all STDs out of any region — south, midwest, west or east. 
3. Washington, D.C. 
It's not technically a state, but according to a 2013 report by the Centers for Disease Control, the District of Columbia had the highest rate of new HIV diagnoses in 2011 of any of the 50 states plus dependent regions. The national rate was 19.1 new cases per 100,000 people; D.C.'s rate was 177.9.
Though officials said there were fewer new cases in 2012 than in years past, they warned that the rate was still at "epidemic" proportions; as theWashington Post noted, the percentage of the population with newly reported rates of infection — about 2.5% — surpasses the World Health Organization's definition of a "severe epidemic."
"Our rates are higher than West Africa," Shannon L. Hader, director of the District's HIV/AIDS Administration, told the Post in 2009. "They're on par with Uganda and some parts of Kenya."
4. Mississippi
As Mic has reported in the past, sexual education in America leaves much to be desired. But Mississippi might take the cake with the number of sex ed stumbles it's recently endured. From comparing sexually active women to dirty pieces of chocolate to teaching kids that homosexuality is illegal, the state falls far behind when it comes to adequate reproductive and contraceptive education. 
The Huffington Post noted that sex ed in Mississippi requires teachers to choose between abstinence-only lessons or "abstinence-plus" curriculums, which teach about contraception but still stress the importance of abstinence. These methods, however, are dubious at best — abstinence-only education tends not to work too well.
5. Ohio  
Thanks to a restrictive state law passed last year, abortion clinics in Ohio are now required to partner with private hospitals instead of public hospitals to take patients to in the event of emergency complications. Given that many clinics are in areas without private hospitals or only near private hospitals with religious affiliations, his has had major ramifications — the number of clinics in the state has dropped from 14 to eight since the beginning of 2013, reported the Cincinnati Enquirer. 
Cincinnati, one of the state's largest cities, is caught in the crosshairs. No private hospitals in the city are willing to sign an agreement with Planned Parenthood, the city's last abortion clinic, and the health department is threatening to shut it down as a result. This would leave thousands of women without access to safe abortions — not to mention contraceptives, testing and reproductive-focused healthcare.
"This is the sort of behavior we expect from political hacks, not public health professionals," Kellie Copeland, executive director for NARAL Pro-Choice Ohio, said in a statement.
A giant pink condom may not be the first thing you might think of when you think of Australian imports, but as the states above show, perhaps it should be.