If You Need That Proof America's Prison System Is Broken, Just Look to Mississippi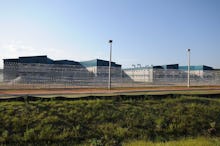 Mississippi lays claim to the unfortunate distinction of having a higher incarceration rate than any other state than Louisiana, with roughly 32,848 prisoners behind bars. There are 717 Mississippi residents in state prison for every 100,000 residents — and that doesn't include the additional 391 per 100,000 in jail.
So it's doubly reprehensible that state prison commissioner Christopher Epps was just arraigned in federal court this week for accepting more than a million dollars in bribes. The charges on the indictment are immense, reports the Clarion-Ledger:
Epps, who resigned from his $132,700 a year government job on Wednesday, is accused of taking more than $1 million in bribes and kickbacks over the last eight years in exchange for hundreds of millions of dollars in prison contracts. McCrory, who owned companies doing business with MDOC, is accused of bribing Epps and raking in cash from sweetheart contracts and consulting fees.
Over the course of a criminal relationship with former state legislator Cecil McCrory beginning in 2007, Epps apparently believed he was so above the law he could afford to take massive risks.
In 2008, McCrory sold his commissary company at a big profit, and Epps approved reassignment of the no-bid contract to the new company. Shortly after, authorities say, Epps had McCrory pay off his home mortgage with three $100,000 cashier's checks and a $50,000 check all spaced months apart ... Prosecutors say that after McCrory paid off Epps' home, Epps told McCrory he could get anything he wanted from MDOC.
According to the New York Times, the charges also allege that Epps gave a firm where McCrory worked a contract to run East Mississippi Correctional Facility in exchange for a $34,000 bribe and half of McRory's $12,000 monthly fee. The ACLU denounced Management & Training Corporation's management of the prison "barbaric" and tantamount to "torture."
The background: East Mississippi Correctional Facility was supposed to house the state's psychiatrically disabled prisoners, providing intensive treatment services to those whose mental health posed a risk to themselves or others. Instead, MTC allegedly ran it as a for-profit hellhole.
As they announced a federal lawsuit against the Mississippi Department of Corrections, the ACLU described vile conditions:
EMCF is a cesspool. Prisoners are underfed and routinely held in cells that are infested with rats and have no working toilets or lights. Although designated as a facility to care for prisoners with special needs and serious psychiatric disabilities, ECMF denies prisoners even the most rudimentary mental health care services. Many prisoners have attempted to commit suicide; some have succeeded.
One prisoner had to have his finger amputated after catching gangrene, while another went blind after being refused treatment for glaucoma. While Mississippi prisoners were suffering under MTC's management, prosecutors allege Epps was busy buying a new beachfront condo. All told, Epps' share of the take may have been as high as $900,000.
For his part, Epps is maintaining his innocence.
Why you should care: One MDOC official told the Clarion-Ledger that corruption runs "deep and wide" in MDOC. And it could go much deeper.
While conditions at East Mississippi were particularly horrible, critics say the rest of the prison system under Epps' management was nearly as bad. Prison officers in Mississippi make a starting pay of $22,006, while gang control of correctional facilities is ubiquitous. According to data from the Sentencing Project, Mississippi's prison system also overwhelmingly contains black inmates, with more than three times as many black inmates as whites. The corrupt system requires an amazing $389 million per year to run.
Across the country, problems like prison overcrowding, harsh sentencing rules and understaffing have made many prisons a living nightmare for the estimated 1 in 100 American adults in jail or prison.