Texas Is Officially Ebola-Free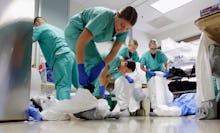 There's good news in Texas: The Lone Star State is officially Ebola-free.
The final hospital worker being monitored for potential Ebola exposure was cleared on Friday, according to the Washington Post, giving the state a clean bill of health with regard to the virus.
The numbers: Over six weeks of worry (and, it often seemed, outright panic), Texas treated three people who had been infected with Ebola.
The first was Liberian man Thomas Duncan, who flew into Dallas and was later sent to Texas Health Presbyterian Dallas hospital, where two nurses working on him also contracted the disease. Duncan died, but the two nurses — Amber Vinson and Nina Pham — are alive and well.
In total, 177 people in Texas were monitored for the virus. The Ebola-free designation leaves only one person in the United States with the disease — Craig Spencer, a doctor in New York. He's expected to be released from the hospital soon, according to the Washington Post.
Bigger deal elsewhere: The United States has had relatively few actual cases of Ebola given the freak-out that's ensued. The vast majority of deaths came from western Africa, where 4,960 people have died from the disease as of Nov. 4.
Most of the 14,000 cases have been in Liberia, where 2,766 people have died. That's followed by Sierra Leone with 1,130 deaths, Guinea with 1,054 and Nigeria with eight.
African business leaders announced at a conference in Ethiopia today that they are contributing $28.5 million to continuing the fight against the disease. It's the latest in a series of high-profile private donations, which have bolstered contributions from the United Nations as well as individual countries.