One Tweet Perfectly Captures Exactly Why Everyone Hates the Airline Industry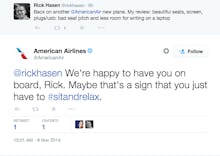 It's already so easy to hate airlines, but Twitter dust-ups like this just make it almost effortless.
That's American Airlines responding after University of California, Irvine law professor Rick Hasen gave a review of their new 737 jet, saying it didn't have as much room for laptop writing. Instead of actually addressing Hasen's concerns, the AA twitter account decided to brush off his complaint as though he's some kind of high-class fancy-man who's expecting some sort of gold throne for his flight. He just needs to take a load off and #sitandrelax.
Yeah, not great.
The conversation: Hasen didn't lose his cool, pointing out that people like him often have to work during travel. American responded again, telling him that, hey, he could always pay more.
Hasen noted that the extra space used to be free, later saying he understands — it's a business. But American Airlines responded with an embarrassing (since-deleted) tweet.
Oof. If you're going to engage with customers, make sure you understand what it is they're saying so you don't come off like this.
A better idea: Just avoid responding to every single person who mentions your company. We're past the point where it's fun or exciting to hear from a #brand on Twitter — wow, the airline actually cares what I have to say?! — because it's not something that goes anywhere unless there's a specific problem that can be addressed.
Sure, using a company's handle is inviting them to look at your complaints. And in fairness whoever's running the American Airlines Twitter account probably has nothing but complaints to deal with. But what could have come out of the company engaging with Hasen about his seat review?
American Airlines isn't the country's most loathed airline — that honor belongs to Spirit, with American placing fifth, according to the U.S. Public Interest Research Group. But airlines as a whole rival cable companies in customer hatred. Telling annoyed flyers to #sitandrelax only makes things worse.
h/t Washington Post