Q&A with Wes Moore, U.S. Army Combat Veteran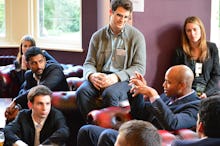 The "Pass the Mic" series showcases voices, perspectives and ideas that spark interesting conversations. 
Wes Moore is an Army com­bat vet­eran and Rhodes Scholar whose first book, The Other Wes Moore, became an instant New York Times and Wall Street Jour­nal bestseller.
As many college students who read Moore's book as required reading know, Moore's success was anything but guaranteed. As a young teen, he was constantly in trouble at school, until it got so bad that his mother asked his grandparents to take out a loan to send him to military boarding school. It was military school that led him to join the Army and sparked a lifelong commitment to service. 
In honor of Veterans Day, Moore shares his service experience and his work with the Franklin Project, a new initiative to provide young Americans with civilian national service opportunities. 
Mic Team: As we reflect on and honor the service of veterans this week, what inspired your original decision to serve in the Army? 
My original decision to join the Army was almost entirely shaped by the people around me when I was in military school. While I was at military school, I saw values like honor, trust and respect manifested in the people around me. These people knew what it meant to take accountability for your actions. Seeing the honor and leadership among my friends and senior officers at military school motivated me to push myself and decide to do something bigger than myself after graduation.
Mic: Was there a specific moment when the service mentality clicked for you?
There is a very specific moment when the service mentality clicked for me and I have to admit it's not my proudest moment. When I first arrived at military school, I absolutely hated every minute of it. There was not one aspect of that environment that I enjoyed or even had an interest in being a part of. Because of this, I ran away every single night at first, and every single night I got lost in the woods and came back. Finally, one night after trying to leave again, I was sitting in my commander's office and I noticed a man in the back corner of the room. He was so calm and stoic. I assumed he was a teacher or a senior commander. The next morning, I saw him with a group of students. As it turns out, he was only a few years older than me, but he was the leader of the most prestigious group in the school. After seeing him interact with his group, it finally clicked for me. Service is about being a leader and doing something for the greater good. It's about doing what's right when you need to and not running away into the woods when you're unsatisfied. This man, the epitome of what service meant and seeing him embody those values, made it click for me.
Mic: How has your service influenced your other work, especially as a writer?
My service helped me find my voice. Before serving, I don't think I'd have had the courage to even attempt to tell my story. I would have kept it to myself, honestly thinking that no one cared or it wasn't worth talking about. My service pushed me to take initiative and speak out if I felt I had something to say.
Mic: You're involved with a new project at the Aspen Institute called the Franklin Project, led by Gen. Stanley McChrystal. What is the Franklin Project and why did you decide to get involved?
The Franklin Project is a new idea that Gen. McChrystal and I firmly believe in. The Franklin Project envisions a future where service to one's country, be it military or civilian, is a part of every citizen's civic duty. I originally joined the project because I know that service by our citizens is what this country needs most to overcome its difficulties and challenges. If each person can donate a year of their time to a broader cause, I have no doubt that we will be capable of meeting any challenges in the years to come. Not only is service crucial to our country, but it is crucial to our citizens. Service experiences can help every individual find what they're truly passionate about. And then they can go out and make a real difference. This project is meant to empower them to get to that point.
Mic: Why do you think it's particularly important for young Americans to serve?
I believe it is important for all Americans to serve because of the incredible benefits that service yields. Service positively impacts communities and helps to enhance and improve our cities nationwide. It's fair to say that service benefits many different people, but it benefits those performing the service most. Every service experience is an opportunity to learn and develop one's passions and skills in a way that a formal, rigid professional environment can't offer. Service allows one to explore their most meaningful impact every day.
Mic: When most Americans think of "service," they think of our military personnel. How is this different? What are the challenges in talking about service in a broader context?
When talking about service, people automatically assume they're giving something up. They're automatically sacrificing. And to be fair, you do sacrifice to some extent when participating in service. But you also gain so much more. I've gained more from service than I ever sacrificed. It's difficult to talk about service in a broader context because it takes a whole shift in perspective to engage in a full conversation. You have to realize the extent of the benefits.