An LGBT Magazine Named Russian President Vladimir Putin Its "Person of the Year" — Here's Why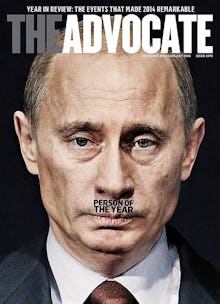 The news: LGBT magazine the Advocate has named its 2014 person of the year: virulently anti-gay Russian President Vladimir Putin.
The magazine's stark cover should make the reason why abundantly clear.
Image Credit: The Advocate
"Imagine a boy who dreams of being a KGB officer when everyone else wants to be a cosmonaut."
The reasoning: "This is a man hardwired to intimidate," the Advocate writes. "Nowhere is this tendency more apparent than in his crusade against LGBT Russians ... the Russian President became the single greatest threat to LGBTs in the world in 2014."
So he's person of the year in the same general sense that Hitler was Time's in 1938, Stalin was in 1939 and 1942 or Ayatollah Khomeini was in 1979. Putin's such bad news for the gay community that he warrants the worst distinction possible.
Under Putin's rule, Russia's LGBT population has faced rising levels of discrimination and anti-gay "propaganda" laws that criminalize spreading information about non-heterosexual lifestyles, as members of their community "continue to be assaulted or murdered with tragic frequency."
This official crackdown on gay rights in Russia has been brutal, as has been a culture of anti-LGBT violence more or less tolerated by the authorities. A 2013 poll of 900 people by the Russian LGBT Network found that more than 15% had experienced physical violence from November 2011 to August 2012. Earlier this year, PinkNews documented that Russian neo-Nazis claiming to be part of an "anti-pedophile" organization had been luring gay teenagers to real-life meetings before kidnapping and torturing them. 
Russia LGBT Sport Federation co-president Konstantin Yablotsky told Slate that "People have become more closed, more depressed, less out than they were. The law makes our activity more difficult, because we never know when the red button will be pressed."
In the Advocate's profile, Human Rights Watch researcher Tanya Cooper says that Russia's culture of homophobia runs wide and deep: "When politicians, celebrities, and respectable journalists in Russia tell you repeatedly, either on television or in print, that gay people are perverts, sodomites, and pedophiles, you just believe it."
Why you should care: Putin's Russia really is rapidly becoming one of the worst places on the planet to be gay, with entrenched homophobia in almost every institution and a government that refuses to respect or protect LGBT rights. Nearly 75% of Russians now think homosexuality is unacceptable.
In one note of good news, Russia recently celebrated one of its first same-sex marriages between two women, but only because one of the partners was transsexual. Since Russian registrars refused to recognize that Ms. Irina Shumilova was a woman, they were forced to issue a marriage license between she and her partner Alyona Fursova.