Pope Francis Just Gave Us One More Great Reason to Love Him Yet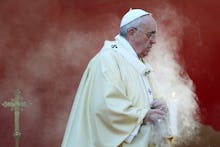 Getty Images
The news: Pope Francis demoted conservative U.S. cardinal Raymond Burke on Saturday in a decision that reflects the Vatican's loosening stance on major social issues, such as welcoming homosexuals to the church.
Burke, known for his opposition against the pontiff's progressive views, was removed from his post in the Vatican's highest court to a ceremonial position as chaplain of the Knights of Malta, a charity group for the elderly, according to a press bulletin issued Saturday.
The former archbishop of St. Louis is one of the staunchest critics of Francis' modern approach to the faith. "Many have expressed their concerns to me," the outspoken Burke told a Spanish Catholic weekly last week. "There is a strong sense that the church is like a ship without a rudder."
Last month, Burke advised parents to keep their children away from homosexual relatives.
"If homosexual relations are intrinsically disordered, which indeed they are as reason teaches us and also our faith," Burke said, "then what would it mean to grandchildren to have present at a family gathering a family member who is living [in] a disordered relationship with another person?" PinkNews reported.
Burke has put pressure on the Vatican to water down its policy that could accept gays and recognize aspects of same-sex relationships, a dramatic shift announced last month during a meeting of the synod between Pope Francis and approximately 200 Catholic clergy, Mic reported.
"If a person is gay and seeks God and has good will," the Pope said last year, "who am I to judge them?"
The pontiff has encouraged no-cost marriage annulments for Catholics and welcomed homosexuals to the church, a move that Philadelphia archbishop Charles Chaput recently characterized as reign with "confusion," adding that "confusion is of the devil."
Regardless of the criticisms hinged on traditional church standards, Pope Francis will likely continue to advocate for a more inclusive church.
The pope, named Time's Person of the Year in 2013, has only been in power for less than two years. In addition to criticism from the likes of Burke and Chaput, his tenure has also elicited cheers. Last year, he launched an expansive investigation into the Vatican Bank to root out financial corruption.
His vision for economic justice unveiled in his first Apostolic Exhortation, a 50,000-word statement defending the poor and criticizing an enabler of poverty, the excesses of free-market capitalism.
Making examples of clergly is an emerging pattern in the pontiff's tenure. He also suspended the "Bling Bishop," accused of lavish spending on himself, to urge the church hierarchy to follow suit.
A month ago, the pontiff beatified Pope Paul VI, admired for his progressive church views that were codified during the the Second Vatican Council in the 1960s. At the event, he had simple words for anti-gay bishops: "God is not afraid of new things."