Tomorrow Is the Holiday Every Single Person Has Been Waiting For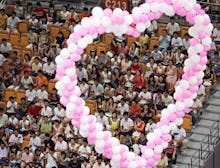 Valentine's Day has met its match.
The biggest shopping day of the year is Singles Day, and it's an annual boon to China's retail industry. An anti-Valentine's Day in sentiment, Singles Day, celebrated in China on Nov. 11, has morphed into a Chinese Cyber Monday on steroids, particularly for online giant Alibaba.
Turns out magic can happen when you combine a passionate customer base of singletons and a lust for online sales: Business Insider reports that the holiday brought in $5.8 billion for Alibaba last year, a jump from $3.1 billion in 2012. To put that sum in context, Americans spent $1.7 billion on Cyber Monday last year.
Like so many holiday shopping events, Singles Day (Guanggun Jie in Chinese) didn't start out with any commercial aspects. The Financial Times explains that the day was founded by a group of university students in China in 1993, playing off the imagery of "11.11" — guanggun means "lone stick" in Chinese.
But starting in 2009, Alibaba brilliantly encouraged its merchants to use Nov. 11 to market to singles, urging non-married shoppers to splurge on themselves with celebratory one-day sales. The potential pool of single customers was and remains huge: Due to a combination of demographic factors, including China's famous one-child policy, China is overflowing with singles, especially men. It's projected that by 2030, 25% of Chinese men in their late 30s will have never been married. 
Those unmarried young people are eager to shop. Thanks to Alibaba, Singles Day has become the world's biggest online shopping event (as measured by sales) — in other words, a shopping holiday American retailers are probably kicking themselves for not having thought of first. 
Though not nearly as big as Cyber Monday, Valentine's Day is a retail event, with big stores like Macy's reporting annual boosts from February holiday sales. But for all the brisk chocolate and flower sales, Valentine's Day is also always accompanied by grumbling (most of it lighthearted) from America's single population, who are obviously neglected by stores' heart-filled, pink-coated strategies. Sure, there are some gifts singles can give themselves; but for the most part, American retailers have largely forgotten about the 124.6 million Americans (about half the adult population) who are single.
Which is a damn shame. We'd totally be willing to ditch Valentine's Day (and Cyber Monday, for that matter) to shop in honor of a day dedicated to singles. We bet the chocolate sales would be through the roof. 
Luckily, given the American corporate world's obsession with Alibaba, we doubt Singles Day sales in America are far off.