Amy Schumer's 'Pussy' Petition Just Scored a Huge Win for Women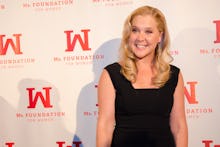 Amy Schumer is willing to fight for her right to say "pussy." 
And it's actually important. Schumer's hit sketch comedy Inside Amy Schumer, now in its second season, had been banned from using the word because of a Comedy Central ban on the term, despite the fact that "penis" and "dick" flow freely on the network. This is not an issue of decency — it's an issue of sexist double standards. 
"Halfway through the first season we started to realize that a lot of the show was addressing women's issues and gender politics," executive producer Dan Powell told a Paley Center panel audience over the weekend, explaining that the team's petition to network executives derived from the show's political slant on gender.
It's not surprising that Schumer, who has garnered praise for her gutsy brand of feminist comedy, would be the one to lead this particular charge. What is surprising is that the petition actually worked.
Here's the first episode of Inside Amy Schumer in which "pussy" is used, as part of a skit titled "Acting Off-Camera."
It may seem inane, even a bit juvenile, but gaining right to use the word in that context is quite significant. Unlike, say, the almost always banned "c-word," "pussy" has come to signify multiple things, from female anatomy to the feline species, in much the same way "dick" has become synonymous with male anatomy and as a derogatory insult. 
Not only is it a victory for free-speech advocates who have felt hindered by the cultural movement for political correctness, it is a feminist victory, as well. The ability to say "pussy" on television demystifies the female anatomy, making the word — and therefore that which it describes — less taboo. Saying the word out loud makes it real and makes women's bodies real at the same time. 
Schumer's victory is also another notch for female comedians making advances in feminism. Tina Fey, Amy Poehler, Jessica Williams and Lizz Winstead are all recent examples proving the powerful influence of female comedians who use humor to subversively — and not so subversively — talk about and advocate for feminist agendas. 
Cultural barriers and glass ceilings are no match for these women who are part of a new wave of feminist leaders, one "pussy" reference at a time.