Neil deGrasse Tyson Weighs In on the Science in 'Interstellar'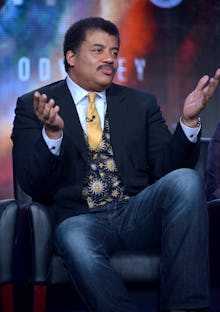 If you didn't have time to see Anne Hathaway and Matthew McConaughey explore a faraway galaxy this past weekend, don't fret. Astrophysicist and Cosmos host Neil deGrasse Tyson took to Twitter to give his thoughts on Interstellar. But this wasn't just any ordinary review — Tyson focused his evaluation on the science behind the space voyage.
The critique started Sunday night with a little background on the movie before it evolved into a multi-tweet string assessing Interstellar's portrayal of zero gravity, wormholes and more.
Overall, Tyson seemed content with the scientific accuracy of the movie. That can't be the same for other sci-fi flicks the genius has tweeted about.
He might have been scrutinizing the plausibility of Interstellar, but he also made some points that might not necessarily be covered in physics textbooks and did it in the classic sassy-Tyson fashion.
Taking a critical eye to scientific accuracy in science-fiction movies is certainly interesting. The genre of films are generally supposed to be out of this world, straddling the believable and unbelievable. But is showcasing inaccurate science OK when the topics are ones most people would never fully understand in their lifetime? That's a good question without a defined answer. Many would say "yes," but from Tyson, the answer is likely a resounding "no."
In the meantime, Tyson's not looking to be the next Roger Ebert. He's doing movies in his own badass way.
h/t Uproxx