You've Never Seen Underwear Quite Like This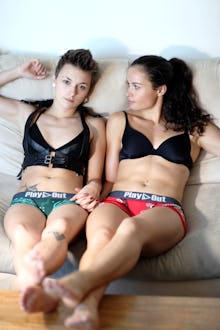 When shopping for underwear, most people are accustomed to visiting either the men's or women's sections to find panties, briefs and other intimate apparel. Rarely does one shop in a place where underwear selection isn't limited by conventional ideas of gender.
But that's exactly what one new company is setting out to change by designing and developing an entire line that's intentionally gender-neutral. 
Play Out Apparel is founded upon the idea that there are no options for people who don't fit neatly into what society thinks about male or female bodies and identities. The New York-based outfit offers a new way for people to express their personal style, regardless of gender.
Perhaps it's not surprising such an unconventional idea came from a rather unconventional duo, a same-sex couple with experience in neuroscience and literature yet no background in fashion. Abby Sugar and Sylvie Lardeux were looking for appealing options of men's-style underwear for female bodies and kept coming up short. Men's underwear often comes with graphic designs and a variety of bold color options, while women's choices rely more on flowery, lacy designs and have a more understated palette.
"Coming from the LGBTQ community, we knew a lot of women and genderqueer individuals who would wear men's underwear because the designs and cuts were more in line with their personal style," Sugar told Mic. "We wanted to offer our underwear as an inclusive option to what else is out there on the market."
Featuring gender-neutral designs and cuts inspired by men's underwear, Play Out currently offers both trunks and boxer briefs with a "nerdy, urban aesthetic" that fuses bold and bright colors with patterns inspired by technology, modern and contemporary art, geometric shapes and science. With the design choices and thick band at the top, the underwear pays homage to a more masculine look while reflecting a fluidity of body types with its cut.
The boxer briefs are shorter, have a flat front and would normally be marketed as a shape for female bodies but, according to Sugar and Lardeux, many cisgender men have ordered that option, while many cisgender women have opted for the typically male trunk cut.
"We offer all of our designs in both cuts, and love that the same person, no matter their gender identification, will want to wear both cuts. Or, wear only the one that you are most comfortable in," Sugar said. "Comfort, and feeling like you can express your personal style in your underwear, is key."
Play Out may move into offering shirts, swimwear and other underwear cuts soon, with a wider variety of sizes. But three years into building their brand, Sugar and Lardeux are proud of what they're pioneering. 
"We absolutely want to continue the conversation around gender expression in style," Sugar said, "and support more ways of being a person that doesn't need to always be so far out on one side or the other of the gender spectrum."