Gay Student Came Back with Perfect Response to Stranger Who Beat Him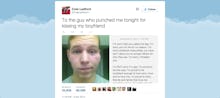 A gay student at Ohio State University in Columbus, Ohio, took to Twitter last week after an anti-gay attack by a stranger left him swollen and bruised.
Cole Ledford, a real estate student from Lebanon, Ohio, was punched in the face by a stranger Thursday night near the Ohio State campus after kissing his boyfriend, Jared. At 11:30 p.m. that night, Ledford posted a picture of his swollen face, along with a message for "the guy who punched me tonight for kissing my boyfriend:"
I'm sorry that you called me fag. I'm sorry you hit me for no reason. I'm sorry whatever insecurities you have don't allow you to accept others for who they are. I'm sorry I threaten you.
Within hours, Ledford's tweet had gone viral, with more than 34,000 retweets and 66,000 favorites of his initial statement. Since that tweet, Ledford has graciously thanked his new fans — he has thousands of new followers — and lent his support to Love Is Louder, an anti-bullying organization founded by the Jed Foundation, MTV and actress Brittany Snow.
As if his brave reaction in the face of bigotry and violence weren't enough proof of Ledford's character, his previous social media posts portray a young man guided by empathy, compassion and a belief in the power of social justice.
In a statement to BuzzFeed, Ledford thanked "everyone who has supported us and for the impact you are letting me have on the world."
If the global reaction to his courage in the face of ignorance is any indication, that impact won't stop with a single tweet.