Azealia Banks' Latest Album Is an All-Out Attack on Pop Music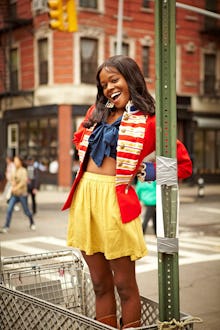 It's been three long years since Azealia Banks' genre-defying "212" rocketed her onto the hip-hop scene with its unbeatable hook and assertive, sexual lyricism. 
You may have forgotten, but there was supposedly an album behind that song — a style-bending, stereotype-destroying album that many have been anticipating for three years. In those years, listeners have instead enjoyed a series of Twitter feuds, label wars and pushed deadlines. But last week, out of the blue, Banks released the album that everyone was waiting for.
It was worth the wait, not only because Broke With Expensive Taste is, quite simply, the boldest release of 2014, but also because it's unleashed Azealia Banks onto mainstream hip-hop, and she's tearing down some of the worst parts of pop culture. Since her release, she's come after Eminem's latest glorification of domestic violence, torn down white appropriation of black culture and reminded the world what a real female rapper sounds like. And she's just getting started.
You often hear people speak of a revolution in female rap, but usually they're talking about female rappers who are actually just pop stars (looking at you, Iggy Azalea). Banks is something else — she's the real thing. One of the hardest rappers in the game right now, Banks is rapping unflinchingly about topics no one else will touch. 
Hip-hop has long run rampant with misogyny and female objectification. Yet Banks unapologetically and confidently expresses her femininity and her bisexuality, and she refuses to play industry politics. She's brash, loud and completely incomprehensible to conventionally minded fans. She laughs at any notion that a woman in the music industry should kowtow to men or focus on playing up her sexuality as a means to get ahead. And for many, that's hard to take.
It isn't just about the music for her, either. She lives the values of her lyrics like no one else. In the days since her album release, Banks has spoken out on some of the biggest issues facing music today. Speaking in Pitchfork, she tore down white cultural appropriation:
The whole trend of white girls appropriating black culture was so corny — it was more corny than it was offensive. Trust me, I'm not offended: All the things I'm trying to run away from in my black American experience are all the things that they're celebrating. So if they fuckin' want them, have them; if they want to be considered oversexualized and ignorant every time they open their fucking mouth, then fucking take it.
And when, a day later, Eminem rapped, "I'll punch Lana Del Rey right in the face twice like Ray Rice," she was one of the first to come after him — in trademark fashion:
As Banks gains a foothold with her new album, she's only getting more involved with the day's most pressing issues. That's part of the reason why Banks and her former recording label Interscope/Polydor had an impossibly difficult relationship and ultimately parted ways earlier this year. It's no secret that industry executives often attempt to fit female artists into cookie-cutter molds. That's what happened when Banks and Pharrell released the thong-and-booty summer 2013 song "ATM Jam." It was a sacrifice she made for her label, but Banks couldn't resist coming out publicly against the song, deciding not to include the track on her album.
All of this makes Banks one of the most compelling, least marketable artists out there. Hence the delay on her album. In an age of constant social media exposure, Azealia Banks refuses to filter herself and won't settle for anything less than boundary-shattering work. That's what makes her the boldest voice in hip-hop right now — a voice we need. As hip-hop gets increasingly muddled by appropriation and playing to trends, it takes an uncompromising artist to make the difference.
It takes someone like Azealia Banks.