Does Calvin Klein Think This Is What a Plus-Size Model Looks Like?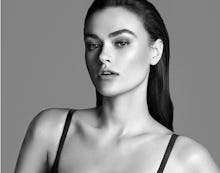 Nothing says delusional quite like Calvin Klein patting itself on the back for using a plus-size model who's skinnier than half the population. In its new "Perfectly Fit" campaign, the brand proves just how disconnected the fashion world is from reality by featuring the size-10 Myla Dalbesio and framing it as somehow revolutionary.
Indeed, in a piece that appeared in Elle, the model was described as the "biggest girl to land a Calvin Klein campaign," which says more about Calvin Klein than it does about her. 
Not surprisingly, social media was unimpressed.
Disgruntled users across the country communicated their disdain for the fashion's industry oblivious attempt at inclusivity. Given that the average woman is a size 14 (which is larger than Dalbesio), many couldn't contain their disappointment with the problematic messaging implied by calling such a svelte woman plus size.
Dalbesio hasn't responded to the online chatter, but judging by her public comments, she views this campaign as a victory while acknowledging that clearly the industry is still pretty confused when it comes to body image. "I'm not skinny enough to be with the skinny girls," she told Elle, "and I'm not large enough to be with the large girls, and I haven't been able to find my place." 
So is this really a victory for women?
Given that plus sizes keep getting smaller and smaller, using a "plus-size" model doesn't seem all that empowering. More importantly, such a decision would seem to run the risk of doing more harm than good. What kind of message does it send if the plus-size models are skinnier than the average American woman? Talk about unrealistic beatuy standards. If the fashion industry didn't worship and use the size 0 (or triple-0, if you're J.Crew) as their benchmark, maybe they would realize it's just not an ideal that makes sense to most women.
There's an entire body of work showing the harmful effects that these images can have on young women, but it's not time to give up just yet. Recent research also shows that we've become better at critically engaging with these images, and the backlash as a result of this Calvin Klein campaign exemplifies that newfound reality. As the amount of unrealistic images media have grown, so has our ability to discern them from reality. Women know better than to believe that a size 10 is actually plus size, and hopefully one day companies will too.
Update 11/11/2014 12:35PM: The New York Times reports that Calvin Klein has issued a statement explaining its decision to include Myla Dalbesio: "The new Calvin Klein Underwear Perfectly Fit imagery features models Myla Dalbesio, Jourdan Dunn, Amanda Wellsh, Ji Hye Park and the face of the brand, Lara Stone, in several styles. The Perfectly Fit line was created to celebrate and cater to the needs of different women, and these images are intended to communicate that our new line is more inclusive and available in several silhouettes in an extensive range of sizes."