The Beautiful Artwork Pictured Here Can Only Be Seen on Veterans Day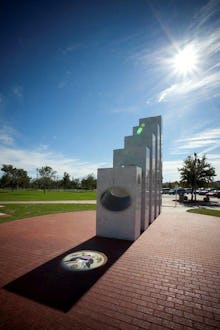 Imgur
On Veterans Day, you might be looking for something a bit more meaningful than just a $2 "support our troops" bumper sticker or lapel pin.
How about this series of stone pillars in Anthem, Arizona, that's calibrated to achieve maximum emotional and visual impact — the sun only highlights the Great Seal of the United States at 11:11 a.m. local time on Nov. 11 — on Veterans Day. For those who don't remember history class, that was the day the armistice bringing World War I to a close was signed.
A rear admiral by the name of Ron Tucker conceptualized the idea, and an artist named Renee Palmer-Jones brought it to life in 2012.
To add even more gravitas to the monument, the bricks contain the names of 750 American war veterans.
Even though visitors can see the seal every day throughout the year, there are few other veterans' memorials that can simultaneously evoke senses of pride and ghastly reverence.