Beautiful Photos Show How the UK Does Veterans Day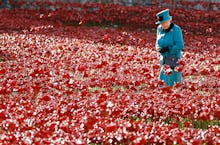 Veterans Day isn't just an American holiday. While Americans remember veterans of all wars, the federal holiday coincides with Armistice Day or Remembrance Day, where countries around the world mark the end of World War I. 
Starting on July 17, more than 19,000 volunteers have installed these poppies. The last one was planted on Tuesday as ceremonies across the United Kingdom commemorated the end of the conflict.