Michelle Obama Has a Powerful Message for Female Veterans Struggling to Find Jobs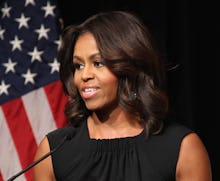 "As you set off into your job search, I want you all to stand tall. Don't be afraid to go out there and sell yourselves... If you want a job, you can't be modest. You've got to show off a little bit. And believe me, you all have so much to show off."
That was Michelle Obama's message for female veterans, delivered at a jobs development forum on Monday in Arlington, Virginia. The first lady's message is especially poignant on Veterans Day, as America remembers and celebrates the dedication of its servicemen and servicewomen. It also stands as a stark reminder of the outsized challenges facing female veterans upon returning home.
Watch a clip from her emotional remarks here:
Unique sacrifice: More than a quarter-million women have served in America's two long post-9/11 wars. Today, they make up more than 20% of the military's new recruits.
But even as female troops are inching toward equality in the ranks, returning veterans are facing unexpected struggles on the home front. The October unemployment rate for women veterans of the wars in Iraq and Afghanistan was 11.2%, five points higher than their male colleagues and 48% above the national rate.
"And that," as Obama said, "is just wrong."
The first lady also announced a series of new public-private partnerships with LinkedIn and online learning site Coursera, which will provide free additional services to active duty troops, veterans and their spouses. Veterans will receive free "premium jobseeker" status on LinkedIn, which means their resumes will appear under the "featured applicant" heading when employers scour the site.
Just a start: These are good first steps. Obama has been a strong voice for veterans since her husband took office in 2009. But the challenges facing women veterans are vast and deeply  in an institution that has not pivoted toward their needs.
"A third of VA medical centers lack a gynecologist on staff," the Wall Street Journal reported recently, citing a study from the Disabled American Veterans group. "About 1 in 5 women veterans report having experienced military sexual trauma, including rape, yet 31% of VA clinics lack staff to provide adequate treatment, according to the Institute of Medicine, an independent nonprofit."
The study also turned up a series of "foundational" issues rooted in a military culture that is not accustomed and is often unwelcoming to to women.
The first priority, according to a VA's Women Veterans' Task Force cited by the DAV, will be "to reverse the enduring perception that a woman who comes to VA for services is not a veteran herself, but a male veteran's wife, mother or daughter."
"Our nation does not yet adequately recognize and celebrate the contributions of women in military service, treat them with dignity and respect or promote their successful transition to civilian life," the report says.
We can do better: While the DAV presents these issues — recognition, celebration and post-service promotion — as a laundry list, they are, in fact, deeply connected. Recognition breed respect, which leads to action. When Obama says that "we've got to do a better job of bridging that gap," she is talking about lining up job skills acquired in the Army with job opportunities back home. But the first step, the most important one, will be in forcing an insular and male-dominated military culture to accept and respect some of its finest new charges.