On Veterans Day, We Honor the Military. The Rest of the Year, We Fail Them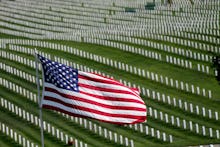 When President Woodrow Wilson proclaimed the first Armistice Day on Nov. 11, 1919, to commemorate the end of the First World War, he set the precedent for the modern Veterans Day.
"To us in America, the reflections of Armistice Day will be filled with solemn pride in the heroism of those who died in the country's service and with gratitude for the victory," said Wilson, "both because of the thing from which it has freed us and because of the opportunity it has given America to show her sympathy with peace and justice in the councils of the nations."
On Veterans Day, Americans honor the service of the men and women in our armed forces with gratitude. On every other day of the year, we fail them.
Poor health care:  According to Think Progress, "the Veterans Health Administration provides health care services to millions of veterans, but a 2012 report by the Urban Institute estimated that there are some 1.3 million veterans who don't have any health insurance whatsoever."
And as this year's Department of Veterans Affairs scandal shows, those veterans who do have access to VA medical services are often subject to systemic institutional negligence. According to CNN, "an internal Veterans Affairs audit released Monday said tens of thousands of newly returning Veterans wait at least 90 days for medical care, while even more who signed up in the VA system over the past 10 years never got an immediate appointment they requested." 
Some 35 veterans died while awaiting medical care in the Phoenix area, setting off the scandal that eventually lead to the resignation of Secretary of Veterans Affairs Eric Shinseki.
Homelessness: The scandal at the VA has overshadowed a growing crisis we rarely talk about: homeless veterans. Nearly 60,000 veterans are homeless in American cities every night, according to the National Coalition for Homeless Veterans (NCHV). A full 13% of the country's homeless population is composed of former soldiers. Some 145,000 veterans use homeless housing programs each year. And in January 2013, three states — California, Florida and New York — accounted for 44% of all homeless veterans across the country.
This is what the geography of broken promises looks like:
Mental health: Homelessness and mental health are related. The NCHV reports that the majority of veterans who experience homelessness after military separation are "younger, enlisted with lower pay grades and were more likely to be diagnosed with mental disorders and/or traumatic brain injury at the time of separation from active duty." A lack of proper health care services only exacerbates this problem.
But it's not just homeless veterans who struggle with mental disorders. Young veterans returning from the Iraq and Afghanistan wars suffer from record levels of post-traumatic stress disorder and depression: At least 15% of these veterans suffer from PTSD, and about 730,000 veterans, roughly one-third of personnel deployed to Iraq and Afghanistan, have some sort of mental health condition requiring treatment.
According to the NCHV, communities can't rely on state and federal VA services to accommodate for the influx of troops returning from Iraq and Afghanistan in the past several years. 
"The most effective programs for homeless and at-risk veterans are community-based, nonprofit, 'veterans helping veterans' groups," writes NCHV executive director Baylee Crone. "Programs that seem to work best feature transitional housing that offers the camaraderie of living in structured, substance-free environments with fellow veterans who are successfully regaining control of their lives. Because government money for homeless veterans is limited and VA serves less than half of this population, it is critical that community groups reach out to help provide the support, resources and opportunities most Americans take for granted: employment, housing and health care."
Think about it this way: The VA requested a mere $2.5 billion to increase efficiency of its services in 2015 and cut down on horrific lapses like those chronicled in the national media this year. By contrast, the Department of Defense projects a 2015 budget of $575 billion. We spend more to send our troops into harm's way than we do to heal them when they come home.
None of these things detract from the symbolic weight of Veterans Day as a moment for us to recognize the blood spilled and lives lost in the service of our values and security. But if Veterans Day is reserved for the soldiers of the past, every day of the year should be reserved for the present. 
To celebrate Veterans Day, volunteer at a nonprofit or community group in your neighborhood: It'll have a much greater impact than a "Support Our Troops" bumper sticker.
Editors Note: Mar. 2, 2015 
An earlier version of this article cited Think Progress' and CNN's reporting, but did not include quotations around the cited passages. The story has been updated to fully attribute the Think Progress' and CNN's language.